The Egyptian Government has reportedly shut down the country's internet connections amid protests against President Hosni Mubarak 30-year rule.
Activists were using social media this week to rally anti-government protestors, with one Facebook event reportedly gaining 75,000 supporters in 24 hours.
At around 9:30am today, the Egyptian Government's website, egypt.gov.eg, became unreachable from Sydney.
Arbor Networks produced a graph that showed the sudden drop in internet traffic in and out of Egypt.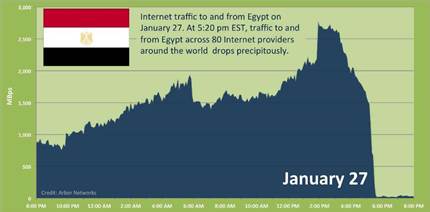 Network monitoring site BGPmon found that 88 percent of Egyptian networks had become unreachable by 1pm, with many Egyptian internet service providers no longer offering connectivity.
Internet information provider Renesys also observed "the virtually simultaneous withdrawal of all routes to Egyptian networks in the internet's global routing table".
"Approximately 3,500 individual BGP routes were withdrawn, leaving no valid paths by which the rest of the world could continue to exchange internet traffic with Egypt's service providers," it wrote.
"Virtually all of Egypt's Internet addresses are now unreachable, worldwide."
Both Facebook and Twitter noted a drop-off in Egyptian traffic to their sites - unsurprising since BGPmon reported that only seven of Egypt's 52 ISPs were still online to some extent.
These were: Etisalat-Misr; Noor Data Networks; RAYA Telcom; Nile Online; AUCEGYPT; Egyptian Universities Network; and TE-AS TE-AS.
"We can confirm that Twitter was blocked in Egypt around 8am PT today. It is impacting both Twitter.com and applications," the company stated.
"We believe that the open exchange of information and views benefits societies and helps governments better connect with their people."
Facebook stated: "We are aware of reports of disruption to service and have seen a drop in traffic from Egypt this morning".
Six people have died in demonstrations in Egypt since Tuesday. A major protest was expected to take place after Muslim prayers today.