An Aussie network engineer has developed a serial cable connector that can give access to a secret kernel debugger hidden within Apple iOS.

The debugger revealed by researcher Stefan Esser at the Black Hat conference last week was a dormant iOS function in Apple iPhones and iPads, carried over from Apple OS.

Esser told The Register that the debugger slashed exploit development time because it gave control over the operating system when it crashes, including read/write access to memory and the registeries.

Brisbane-based network adminstrator Chris Pollock has designed a serial connector capable of accessing the system, and has published the blueprints and photos on his blog.

He developed the system, which relies on a jailbroken device, to allow engineers to use the hidden serial port in Apple devices such as iPads and iPhones so they could be used in place of laptops in data centres.

US-based RedPark offers a similar system that does not require a jailbreak, but Pollock said it would not grant access to the debugger.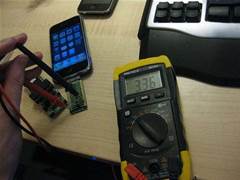 "There are limitations because the cable is powered by the serial," Pollock said. "It requires external power."
Without external power, the serial port will not access the debugger.
Pollock's blueprints have been updated to show how his serial cable can be booted with a 3.3v external power source.
He had begun to further develop the devices but ceased once the RedPark cable, previously stalled from production for months, was accepted by Apple.