Satellites will form the backbone of Australia's space programme, launched today by the Federal Government.
The Satellite Utilisation Policy was outlined by Senator Kate Lundy at the Australian National University's Stromlo Observatory as part of the Government's $40 million space research and education initiative.
Lundy said the government earnt $3.3 billion from satellite imagery in 2010, with the expected earnings from geographic positioning systems expected to hit up to $12 billion in 17 years' time.
Australia "must contribute selectively to prioritised international missions if the nation is to benefit from the the information they provide," according to the policy.
Which missions in particular were not specified, but Australia has worked with the United States National Aeronautics and Space Administration in the past.
The European Space Agency (ESA) is also active in Australia, with the Deep Space Antenna 1 station positioned in New Norcia, 140 kilometres north of Perth in Western Australia. Australia is also working with Canada, New Zealand, the UK and Japan on space related projects.
Commercial companies and international satellite owning and operating partners will meet Australia's short-term needs by sharing capacity, the policy states.

Communications, position, navigation and timing will form the mainstay of Australia's satellite activities, along with observing and studying the earth from space.
Tracking and dealing with orbiting space junk and supporting "appropriate international space arms control and transparency and confidence-building measures" also form part of the policy.
However, any cosmic ventures will be closer to home rather than outer space.
"Australia's Satellite Utilisation Policy does not commit Australia to human spaceflight, domestic launch capabilities or to the exploration of other planets," the policy states.
From July this year, a new Space Coordination Committee will be set up within the Department of Industry, Innovation, Climate Change, Science, Research and Tertiary Education, tasked with coordinating the country's civilian activities.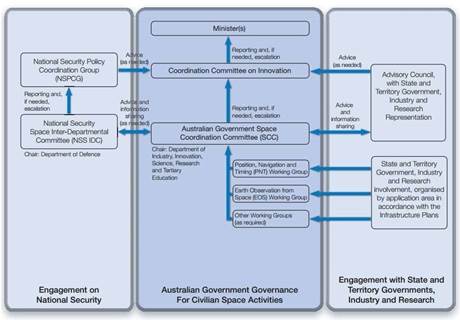 Australian space programme organisation