Relax, Internet Explorer users, you aren't so stupid after all.
A Canadian IQ tester who garnered global headlines this week for claiming that Internet Explorer users were dummies has outed its research as a hoax.
AptiQuant claimed it ran a survey that found IE users had lower average IQs than users of other web browsers.
The hoax admission came after French psychometric testing company CentralTest was forced to deny any link to AptiQuant.
CentralTest, which claimed 3500 customers and nearly 200 partners worldwide, said it had no relationship to AptiQuant, a Canadian business that claimed to be an IQ tester and whose website bore a striking similarity to the French company.
"We are trying to find AptiQuant in our archives but they have never been our client, there's been no partnership or distributorship [relationship]," a spokesman told iTnews.
She said that CentralTest would issue a statement shortly that distanced the French company from AptiQuant and the controversial survey.
CentralTest was attempting to reach an AptiQuant representative. The spokesman said the company would also consult its attorney on next steps.
She said that CentralTest had also spoken to the BBC on the same issue.
Background
The results of AptiQuant's browser intelligence survey were reported widely, including by the BBC, CBS News, The Huffington Post, The Sydney Morning Herald (from social-media news site Mashable) and on this site on Tuesday.
But whois records - the database that lists who was responsible for a website such as its technical contacts and owner - and web content comparisons raised questions over the company behind the survey that was the subject of the story.
A Google search of the phone number listed by PRWeb for AptiQuant contact Leonard Howard showed it was shared by shopping comparison sites CaptainSam.com and Atcheap.com.
Press releases for the comparison sites, also on PRWeb, listed the number as belonging to Tarandeep Gill.
Another press release for a digital camera blog promoted the same number as reaching Kevin James of Gill Web Services. James was quoted in Atcheap press releases as a company spokesman.
When iTnews contacted the number, the person who answered the phone declined to volunteer his identity: "Who do you want to talk to?" they asked before confirming he was Tarandeep Gill of CaptainSam and Atcheap.
Gill was unable to explain why his number would be shared by Leonard Howard of AptiQuant, pausing before responding: "I'm not answerable to you, am I?"
He said he had "no idea" why Leonard Howard would use his number.
"This is my number and I don't know who else you're talking about," Gill said.
Calls made to the phone number over the next few hours were directed to an anonymous voicemail.
Tarandeep Gill

The name Tarandeep Gill made headlines last year when it was linked by the TorrentFreak blog to music download site Zaptunes.
Zaptunes had claimed to offer unlimited DRM-free music downloads. It was shut down months after launching, according to TechCrunch, but resurfaced again this year.
Zaptunes.com and AptiQuant.com were also listed in a July 16 blog post on the digital camera blog; other posts pointed to Atcheap.
A search on professional networking site LinkedIn for Tarandeep Gill elicited two profiles, one for a student at the Georgia Institute of Technology in Atlanta, Georgia and another for a lab manager at Bell Canada. But iTnews can not determine if these are the same Tarandeep Gill connected to AptiQuant or if they are the same person.
AptiQuant

Although AptiQuant claimed on its website to have been in business since 2006, its domain was registered on July 14, according to whois searches.
A search using the tool SEO WHOIS listed the registrant of AptiQuant.com as Tarandeep Gill of Gill Web Services in Canada with the same phone number.
AptiQuant.com offered site visitors its Twitter feed (now suspended) and a blank Facebook page.
There was no organisational listing for AptiQuant on LinkedIn.
An iTnews reader also found big portions of the its website shared by a French psychometric test firm called CentralTest.
For example, AptiQuant wrote: "An estimated 5000 AptiQuant evaluations are taken every day by job applicants and employees. (Based on 2010 figures)".
CentralTest on its website: "An estimated 5000 Central Test evaluations are taken every day by job applicants and employees. (Based on 2009 figures)".
Both companies were set up by a "psychologist and business graduate"; were world leaders "in the field of online psychometric testing" in the past few years; had achieved near-identical scientific validation of their methods and serviced the same list of high-end clients.
AptiQuant's team used the same photos as CentralTest's, albeit with different names.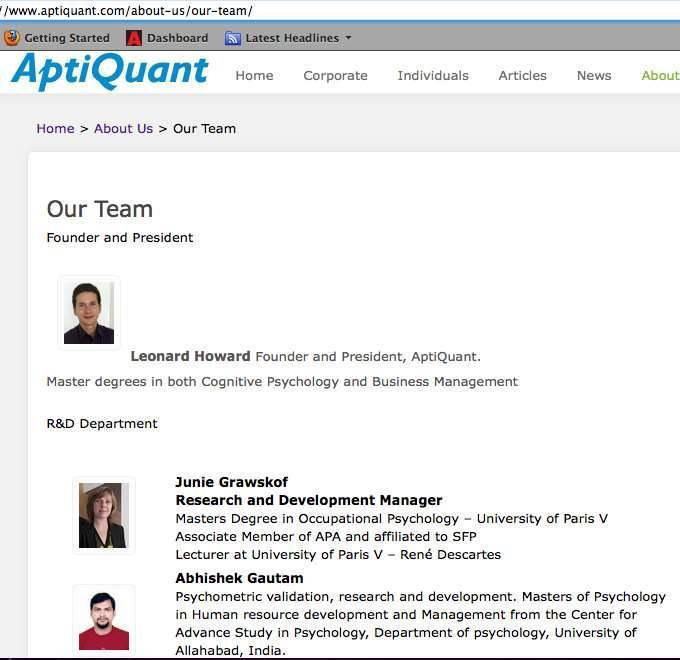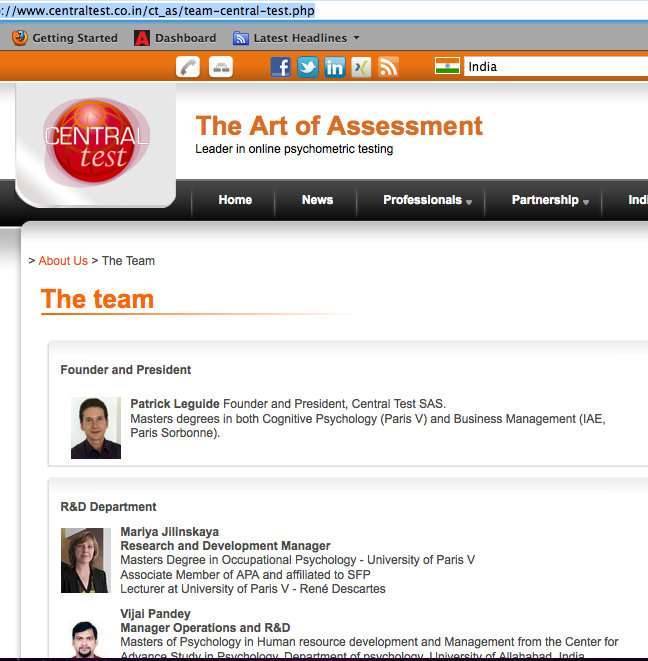 AptiQuant's founder Leonard Howard had the same photo as CentralTest's founder Patrick Leguide.
The biography and work experience of the two were similar - including their starts at French company called Novatris.
A LinkedIn search showed listings for Patrick Leguide owner at CentralTest, a company that had 51 to 200 staff and serviced 3500 clients with aptitude tests for recruitment. The company had 63 LinkedIn followers while Leguide had eight connections.
A whois search of CentralTest.com showed it had been registered to "Leguide" since 2001.
It was unclear how AptiQuant stood to benefit from the publicity.