First released in 2007, AVG's Internet Security SBS edition is targeted mainly at single-server small businesses - particularly those running Microsoft's Windows Small Business Server. For desktops, it provides a very similar feature set to AVG's consumer suite, while allowing those computers to be centrally managed. It also incorporates a basic Exchange plug-in for server-side email virus scanning, and will also scan files on share drives and in SharePoint.
Setting up AVG involves first setting up the administration utility on the server, then deploying the agent to the individual desktops. Experienced administrators will find the process a relatively painless affair. It's also a little slow, especially the network scan for AVG clients.
Once installed we were very pleased with the remote management console. It's light and unobtrusive and allows an amazingly high degree of control over managed clients. It doesn't require a server OS or a Web server installation to get up and running - you can install it pretty much anywhere. If you don't have an existing client database it will create one for you.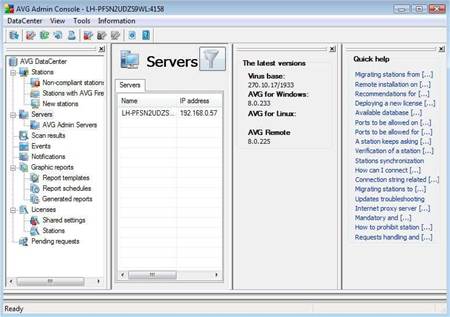 Light and unobtrusive - we were impressed with AVG Internet Security SBS Edition 8.0
While it's not as easy to use as, say, the McAfee or Trend Micro solutions, we were taken with how accessible the remote administration console was, and how well it managed to boil down its many options into a digestible system. There's also an excellent help system and a deployment wizard that makes creating customized client installers a breeze. Its group management features are also top notch - the way it automatically adds out-of-date clients to a default group is particularly useful.
The Exchange plug-in, meanwhile, is installed separately, and doesn't really need to be managed. It's basically an all-or-nothing affair - it either scans all incoming email for viruses or it doesn't.
The client agent provides very comprehensive coverage, especially for a small business tool. In fact, there's very little to differentiate the client from the regular AVG Internet Security consumer suite. Of course, you have the anti-virus, anti-spyware and firewall. But there's also a malicious Web-site protection tool, IM protection, system defenses as well as desktop spam filtering. You can even install the client without the remote administration tool, and what you get is essentially the same as AVG Internet Security. Which isn't a bad thing, except that it can ask a little more of your system resources than other business clients.
It's a product we recommend overall - it's easy to use, logical and powerful. Some of the database linkage processes may be a little confusing for some users, but for the most part it's a solution that will work for small business.