Mobileme is Apple's suite of online services offering email, calendar, contacts and storage in the cloud, plus the ability to sync data between your computer, your iPhone and the web. Time Capsule is Apple's wireless access point with a built-in hard drive which acts as Network Attached Storage for all your computers.

The two Apple flagship products have come together with the latest Time Capsule firmware upgrade, letting Mac users with a Mobileme account access their Time Capsule's hard drive when they're away from home. It's available for existing Time Capsules as well as the new dual-band Time Capsules.
How it works
Unfortunately you can't access your Time Capsule through Apple's me.com portal, as you can with Apple's iDisk online storage service. You can only access it from a Mac.

The other key limitation revolves around your home network. Similar to Apple's Back to My Mac remote access service, the the Time Capsule's Mobileme features require you to use an Apple base station as your primary router, or a third-party router with Universal Plug and Play technology. This is where the fun begins.

If your Time Capsule is plugged directly into your broadband modem (such as an Optus cable modem) then you shouldn't have any problems getting the Mobileme feature to work. Just use Apple's Airport Utility application to access the Time Capsule's configuration pages and enter your Mobileme login and password.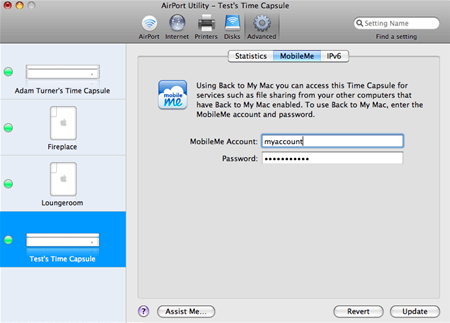 Using Apple's AirPort Utility to access Time Capsule
If you've also entered your Mobileme login details in the Mobile preferences panel on your Leopard Mac, whenever you access the internet away from home the Time Capsule should appear in the Finder as an attached device. You don't need to work about things like Dynamic DNS, as Mobileme takes care of all this.
Is my modem compatible?
If your Time Capsule is plugged into a combination router/DSL modem (such as the Billion routers popular with many Australian ISPs), the remote access features probably won't work. Even if your router is uPNP compatible there's a big chance if won't work, you'll find a list of compatible routers here.

As a quick compatibility test, click on the Back to My Mac tab in the Mobileme preferences panel on your Mac. If it says "Back to My Mac isn't working properly because it requires a router that supports NAT- PMP and uPNP", and you can't fix this by tweaking the settings in your router even though it features uPNP, chances are the Time Capsule's Mobileme features won't work for you.

A possible work around is use your router/modem as a modem only in bridge mode, which could create problems if you're relying on the router to provide other services such as VoIP.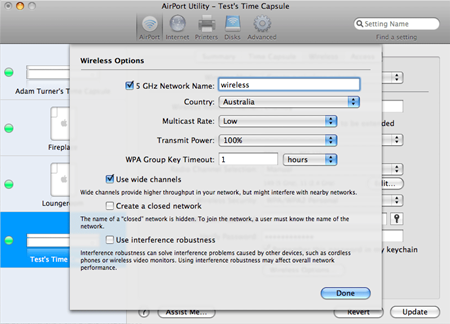 Setting wireless options in Apple's Airport Utility
Is it worth the trouble?
If you're a diehard Mac user who can live with the Time Capsule's limitations and have a compatible router/modem, you could find the Mobileme features handy - especially as they remove the need to mess around with features such as Dynamic DNS.

Otherwise you have to ask yourself if you'd be better off with a dedicated internet-enabled NAS - something that should work with any router and offer access from any computer.