Western Australia has won the wooden spoon in iTnews state government IT rankings.
The Barnett Government might think that the expanse Great Sandy Desert is enough to obscure attention from the fact that it has no plan for IT. It is not.
WA finds itself well and truly at the bottom of iTnews' maturity scale, with no IT strategy and no plans to put one together, no apparent ministerial responsibility for IT, and no excuses for its neglect.
We have given it one point out of a possible 12 in our IT maturity index: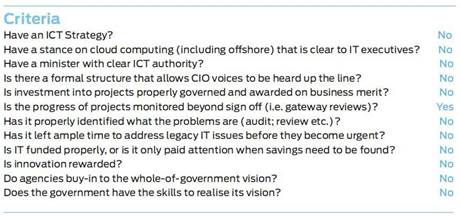 In 2005, the state launched a shared services scheme that involved migrating all 58 state departments and agencies onto a single ERP platform based on Oracle's eBusiness suite. Extensive customisation, however, made the system shaky and as a result nearly two-thirds of agencies were still refusing to make the switch six years later.
The Barnett government decided to cut its losses in July 2011 and begin rolling back the shared services office. According to budget papers, the process of decommissioning and replacing the ERP systems of agencies that had already transitioned to shared services is costing the state more than $370 million. What is more, it seems to be sucking the government dry in terms of tech innovation. There is simply not much else going on.
That is, of course, except for the Fiona Stanley Hospital. Originally billed as a "paperless" facility, IT concerns have forced the state to put the opening of the $2 billion health centre on hold and concede that there will be plenty of paper, at least for a few more years.
It all adds up to a pretty negative IT narrative for the state's public sector. Little wonder that no members of Premier Colin Barnett's cabinet are volunteering to take it on.
Despite this there are a few pockets of innovation sprouting through the cracks.
A dedicated geospatial data agency – Landgate – has produced what is probably one of the richest government data maps available at present, layering everything thing from fire warnings, mining tenements to census stats across an interactive map.
The withdrawal of centralised ERP has also opened up the opportunity for a handful of agencies to adopt cloud solutions in its place, despite a lack of whole-of-governance guidance on the issue (beyond a tacit endorsement of the Commonwealth policy).
But if IT maintains its invisibility within the Barnett government's agenda, and its immunity from ministerial scrutiny, then it is inevitable that at least some agencies are going to slip behind.
Want to see how all the states and territories stack up? Download our State of IT report. Do you work for one of these governments? Let us know how you would have scored your state here.