Consumer electronics seller Warcom has been forced to revise its social media policy after its blog was hijacked last week allegedly by a rogue staffer.
Two inflammatory posts appeared on Monday last week, both under the byline of Warcom managing director Paul Warren.
They were removed from the site but continue to appear in the firm's RSS blog syndication feeds.
Warren told CRN the posts weren't his or the result of a hack but were penned by an unnamed "internal person".
"It's all been resolved," he said without going into detail.
Warren passed the posts off in part as a staffer wanting to give the company's executives "a bit of stick".
The first post, titled "pete y testing is a knob" appeared to single out a user of the Whirlpool forums.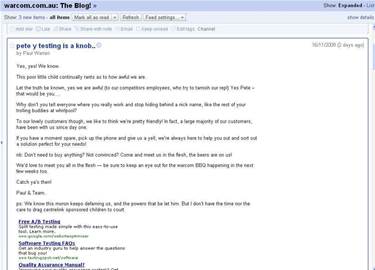 Warcom withdrew its customer support presence from Whirlpool in September due to what it called "abuse and targeted slanderous comments".
Five hours later a second post appeared under the title, "Darren's a knob too" - with the puzzling text 'Seriously... 180!!".

Warren said Warcom had revised its social media and blogging policy to prevent a recurrence.