The Queensland Government has spent $1 million of $10 million grant from Rio Tinto to install screen sharing technology in its Kedron emergency services hub as well as five helicopter bases across the state.
The new kit - based on Cruiser Interactive technology - will allow Queensland Government Air (QGAir) teams across the six sites to share the same view of incoming data and emergency monitoring, and to switch between different screen views with a flick of the wrist.
Interactive screens have been set up in the co-ordination sites, onto which information from phones, tablets and PCs can be displayed.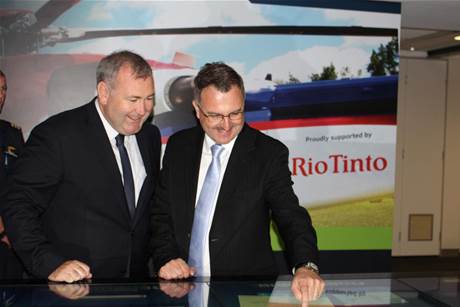 Minister Jack Dempsey inspects the new technology
The Cruiser Interactive technology, officially launched yesterday, will replace clumsier communications methods of the past, which relied on video conferencing, phone calls and emailed images.
"Every second counts in an emergency and any improvements to response times and the quality of information provided to crews is important," Emergency Services Minister Jack Dempsey said in a statement.
"We are picking up the lessons that have been learnt from the disasters over the last three years, where we have experienced command and co-ordination challenges in tasking helicopters, particular during disaster situations," QGAir boss Craig Phasey said.
"This allows us to electronically record information and provides better and more tailored information from both what the aircraft have been tasked to do, and from a risk management perspective, it allows additional support to the operating crew."
The government hopes to expand the capability into emergency services choppers themselves in the future, eventually allowing assistant pilots to send and receive information between the air and base from a tablet.
The operations of the Queensland Government Air rescue helicopter service, including the latest technology investment, is funded through a $10 million sponsorship grant from resources giant Rio Tinto.