The Mozilla Foundation has suggested that the providers of internet enabled services such as Netflix be re-classified as telecommunications suppliers to protect them against blocking or traffic discrimination by ISPs.
Such a move would put what Mozilla terms 'remote delivery services' on par with ISPs in terms of their relationship with end user customers.
In a submission to the US communications regulator, the Federal Communications Commssion, Mozilla has argued the reform would restore so called 'net neutrality' to the US telecommunciations space.
"With clear authority and effective rules, ISPs would be prevented from blocking or discriminating against any edge provider, whether on a wireline or wireless network," wrote Chris Riley, Mozilla's internet policy lead.
Net neutrality has become hot topic in the United States as content and service providers fear it is their only protection against having to negotiate traffic delivery deals with all ISPs just to be able to reach their customers.
The FCC had previously banned this sort of web-traffic discrimination. But in January this year US broadband provider Verizon succeeded in persuading the District of Columbia Court of Appeals to strike down the net neutrality rules.
The FCC said in April its new framework would ensure network operators disclose how they manage traffic and prevent them from blocking any internet communications. However, the regulator at the same also floated the idea that ISPs could negotiate deals for traffic delivery with content providers, a move widely seen as undermining the net neutrality concept.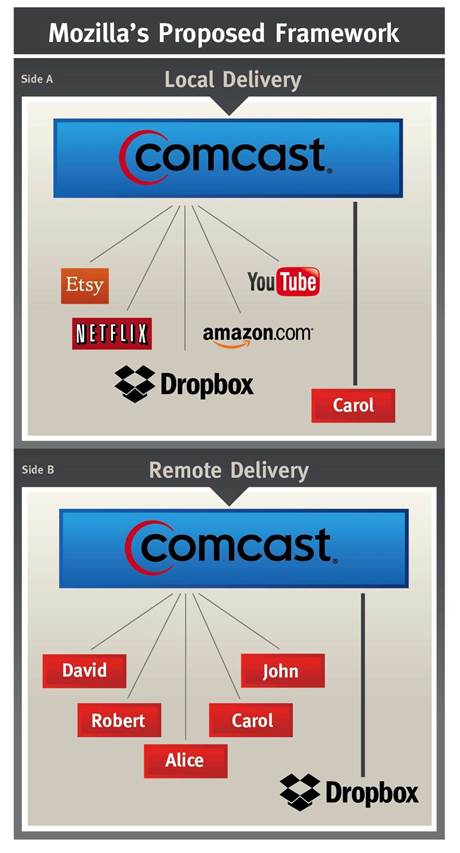 Emphasising the importance of unimpeded traffic on the internet for political freedom as well as commercial reasons, the European Union proposed last year to enshrine net neutrality into law.