Outgoing United States president Barack Obama has commuted the remainder of the 35-year prison sentence handed to Chelsea Manning, the former army soldier jailed for leaking confidential material to WikiLeaks.
The 29-year-old was a US Army intelligence analyst stationed in Iraq. In 2010 she sent videos taken by US military units during operations in Iraq and Afghanistan to Julian Assange's WikiLeaks whistleblowing site, along with over a quarter of a million diplomatic cables and a large number of Army reports.
Manning was arrested later that year, after confiding to online acquaintance and well-known hacker Adrian Lamo about the leaks. Lamo alerted US authorities to what Manning had done.
Although she avoided capital punishment for aiding the enemy, in 2013 Manning pleaded guilty to ten other charges and was found guilty of a further 11.
Manning was sentenced to a total of 35 years in prison, to be served at the Army disciplinary barracks at Fort Leavenworth in Kansas.
She will now be freed from prison on May 17 this year.
Born Bradley Manning, the soldier later came out as a trans woman, changing her name to Chelsea. While imprisoned, Manning attempted suicide twice.
Assange's promise
All eyes are now on WikiLeaks founder Julian Assange following his pledge to agree to extradition to the United States if Manning was set free.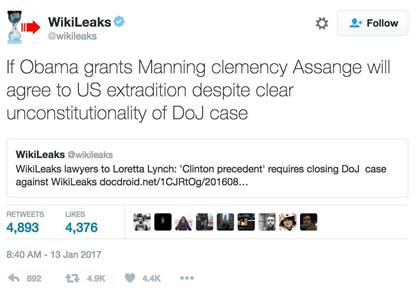 Assange has labelled the decision by Obama to commute Manning's sentence a "victory".
The WikiLeaks founder has been holed up at the Ecuadorean embassy in London since 2012, after losing a legal battle to avoid being extradited to Sweden, where public prosecutors wanted to question him over alleged sex crimes against two women.
Update 19/1/17:
Julian Assange appears to have gone back on agreeing to be extradited to the United States if Manning was granted clemency.
Through his US lawyer, Assange told The Hill that while he welcomed the decision to reduce Manning's sentence and her release in May, it still falls well short of what he sought.
Assange's offer to be extradited hinged on outgoing president Barack Obama granting Manning clemency and for her to be released immediately,
Although the US has not officially laid charges against Assange or asked for his extradition, the Australian's legal advisers believe authorities have prepared a sealed case with secret charges against him.