Members Equity Bank is battling systems issues and a backlog of support calls this morning after work performed over the weekend in preparation for an upcoming core banking overhaul resulted in service outages for some users.
ME Bank informed its customers over the past week that internet, mobile and phone banking would be unavailable all day Saturday and Sunday as the bank made some updates to its systems to prepare for the introduction of a new core banking platform.
The Melbourne-based company advised customers just after midnight that banking systems were back online, but warned of delays to the call centre following the planned two-day outage.
But within a few hours, customers attempting to log in to internet and phone banking were greeted with a 'systems error' message and were unable to access their accounts.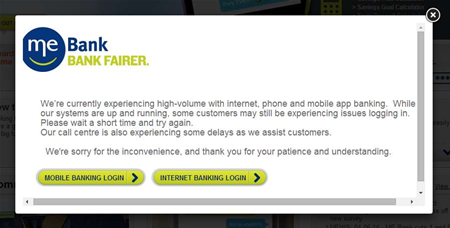 The bank rectified the issue at around 8am this morning, but continues to struggle with high volumes of traffic across all of its channels - its call centre, online and mobile banking sites.
"Because some banking services were unavailable for a few days, there are naturally higher numbers of customers accessing the system this morning," a spokesman for the bank told iTnews.
ME Bank is nearing the end of a four year, $57 million technology overhaul.
It is preparing to replace two ageing core banking systems - a ten-year old Windows SQL-based product called NTBS and the Solaris-based Ultratracs - with a Temenos T24 core banking system sitting atop Microsoft Windows Server 2012 and VMWare's ESX hypervisor.
The core banking overhaul had originally been scheduled to go live in February this year.
An ME Bank spokesperson said the core banking system would be replaced "reasonably soon".
Update: The glitch has been resolved, but ME Bank encountered a separate systems issue on Monday night. Click through for more.