Ashley Towns, the 21-year-old Australian who infected vulnerable jailbroken iPhone handsets with a virus has conceded the idea was "stupid".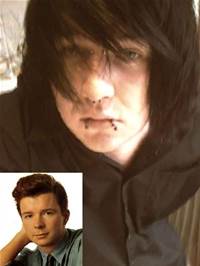 Hacker Ashley Towns, 21, on
his MySpace
, and, inset, a picture of Rick Astley, the singer Towns placed on people's iPhones.
"In reality it was a pretty stupid thing to do," Towns said.
Asked if he regretted the spread of the virus, "God yes," he responded.
Towns said he had received non-stop phone calls, death threats and posting of his personal details online.
People had even managed to find his geo-location from a picture he posted online from his iPhone.
"It's crazy," he said. "It definitely changed the way I look at all the posts about people and stuff."
He also said that he was "really regretting" comments left in the code of the virus.
"People are stupid, and this is to prove it so RTFM [Read The F***ing Manual]. Its not that hards [sic] guys. But hey who cares, its only your bank details at stake," the virus' code read.
"I meant it in a sarcastic kind of way," Towns said. "It's one of those things I just typed without really thinking."