Analyst group Gartner has released its 2010 'Hype Cycle' graph, noting that media tablets, 4G networks and cloud computing are at the peak of their hype and teetering on the edge of a speedy decline into what the analysts famously call "the trough of disillusionment."
Gartner's hype cycle is a tool designed to chart the evolution of new technologies and user attitudes toward them.
In the 2010 chart [below], cloud computing, media tablets such as the Apple iPad, Dell Streak and RIM PlayBook and 3D flat-screen TVs were all listed within the "peak of inflated expectations" - all considered two to five years away from mainstream adoption.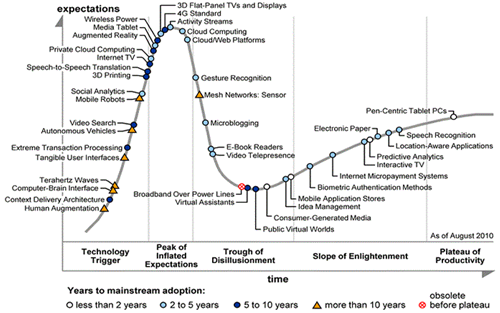 Gartner's 2010 Hype Cycle
Cloud computing has "tipped over the peak and will soon experience disillusionment among enterprise users," said Gartner vice president Jackie Fenn.
Other technologies at the top of their hype, however, were expected to take far longer to mature.
IPTV (internet TV), augmented reality and 4G mobile networks were expected to take between five and ten years to gain mainstream adoption.
Gartner listed location-aware applications, predictive analytics, internet micropayment systems and biometric authentication among those technologies on the "slope of enlightenment".
This means that whilst these technologies might still take two to five years to hit the mainstream, they are well beyond their initial hype and are now delivering on some of the promise.
"The migration of the web phenomenon beyond the desktop and into the context of people's everyday lives is creating new opportunities for personalised and contextually aware information access," Gartner said in a statement.
"Augmented reality is a hot topic in the mobile space, with platforms and services on iPhone and Android platforms, and it represents the next generation as location-aware applications move toward the plateau."
Looking ahead, Gartner listed video search and social analytics among its predictions for future hyped technologies in the next two to ten years, and noted that a 'computer-brain interface' would soon figure in its charts, even if it took another decade to come to the market.
"The quantity and variety of digital data continue to explode, along with the opportunities to analyse and gain insight from new sources such as location information and social media," the analyst group noted.
"The techniques themselves, such as predictive analytics, are relatively well established in many cases; the value resides in applying them in new applications such as social analytics and sentiment analysis."