Social networking giant Facebook has switched on its Swedish data centre in the northern city of Luleå, and it is serving users from around the world, the company said today.
Facebook built the Luleå data centre to take advantage of the cold climate in the area, calling the new facility one of the most efficient and sustainable ones in the world. Equipment is cooled by chilly outside air and the data centre uses fully renewable energy produced by hydro power.
The hydro power area in the region is so reliable that Facebook claimed it had been able to reduce the number of backup generators by 70 percent.
Already, the Luleå data centre has been tested as having a power usage efficiency or PUE factor of 1.07. PUE is the total facility power draw divided by that of the actual equipment, and an ideal figure is 1.0.
Cooling fans in Facebook's Luleå data centre
Design and construction of the Luleå data centre started in October 2011, as Facebook joined other IT giants such as Google in attempting to build sustainable computing facilities that make use of external cooling and renewable energy.
In May 2011, Google
showed
off its converted paper mill data centre in Hamina, Finland, that uses sea water for cooling, and which is now powered by hydro-generated electricity from Sweden over the integrated mains grid in the Nordic countries.
Inside the data centre, Facebook uses IT and networking infrastructure built under the auspices of the
Open Compute Project
, which aims to produce "vanity free" equipment that as efficient as possible at the lowest cost.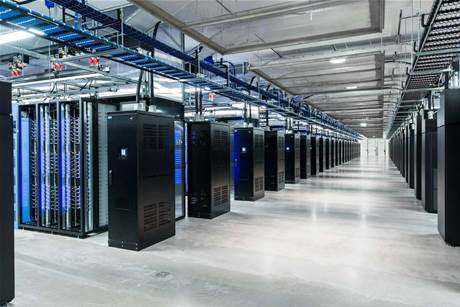 Open Compute IT infrastructure inside the Luleå data centre
The Open Compute Project
started
two years ago and now has over fifty members. It has produced designs for system racks and storage boxes as well as motherboards and interconnects and is now working on producing network switches and advanced software-defined networking (SDN) along with them.
All images from Facebook.