The caretakers of Brisbane Technology Park, Dutch-owned Zernike Precincts, plan to expand the facility in a $13.5 million upgrade, and has ambitions to roll out more technology precincts around the nation.
Set to open in 2011, the 3,400 square metre facility will be equipped with state of the art voice, video and data facilities along with customisable manufacturing spaces and laboratory facilities for up to 20 tech companies.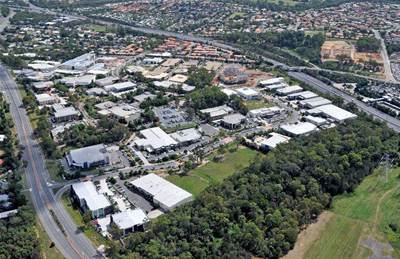 The facility (construction zone near the freeway) under construction
Zernike Precincts is a new venture funded by the global Zernike Group, which manage six science parks in Europe and Australia, including the Brisbane Technology Park.
Zernike was appointed Manager of the Brisbane Technology Park in 2002 and has since worked with the Queensland Government to grow the Park from 24 to more than 90 companies.
Telco Spiderbox, which is also headquartered at the Brisbane Technology Park, will install and support $500,000 worth of Cisco equipment in the new precinct to provide voice, messaging, video and desktop applications and offer data hosting, disaster recovery and fibre optic broadband services to clients in the precinct via its own network.
Zernike is targeting early stage companies and startups on small budgets to take residence in the precinct. The company claims it can provide access to expensive laboratories and communication technologies that would be usually be out of reach of small players.
"The new precinct will help ensure that all the pieces of the innovation and commercialisation puzzle are in place so IP, prestige, skills and economic benefit are retained and not lost overseas or even to another State," said Arnold Stroobach, Director of Zernike Precincts.
Artist's impression
The company plans to rollout four more technology precincts in other Australian capitals within the next five years, and is already in talks regarding other opportunities in Queensland, Western Australia and Victoria.