Digital crypto currency holders might be in for a rocky ride after the largest Bitcoin exchange Mt Gox halted trading over the weekend following a dramatic downturn in the currency's value.
Mt Gox, which handles as much as 40 percent of all Bitcoin exchanges, blamed an unknown technical problem for the issue, which appears to have been started by an increase in withdrawal requests.
"In order for our team to resolve the withdrawal issue it is necessary for a temporarily pause on all withdrawal requests to obtain a clear technical view of the current processes," the Mt Gox administrators said in a statement.
Several commenters on Reddit's Bitcoin forum complained that they couldn't access the site over the weekend, and speculated a denial of service attack against Mt Gox was in progress.
Mt Gox has promised an update on the issue today, but did not say if trading will resume.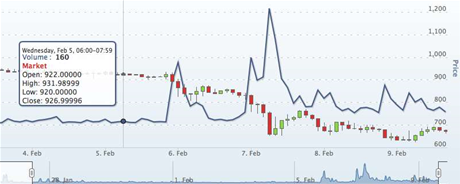 The value of Bitcoin against the US dollar had held unusually steady at US$920-950 towards the end of January to beginning of February; however, starting February 6, trading volumes spiked and the currency dropped in value over the next few days.
It is currently trading at US$622 to US$693.
Mt Gox has a history of problems, and was hacked in 2011 with 61,000 account details leaked. It also suffered a large denial of service attack last year and the US department of homeland security seized its Dwolla account for illicit money trading shortly after.
Bitcoin itself suffered a setback in terms of acceptance last week, as Russia banned the currency along with Indonesia.