Bing, Microsoft's purported Google killer, today released the next gun in its arsenal to the Australian market - Bing Maps.
Like its competitor, Google Maps, it provides easy access to satellite images and street maps - although Bing swaps out Google's Street View for its own 3D imaging.
Mapping data is supplied by MapData Sciences, Navteq, GeoEye, Digital Globe, Harris, Pictometryand Earthstar Graphics
Performance-wise, a search on Bing Maps takes about as long as on Google. Bing's new service offers very clear satellite images with what appears to be more up-to-date photography than on the Google service.
Similar to Google Maps, Bing Maps also provides directions if a user provides details of an origin and destination.
Now in 3D
One of the great features that Bing Maps offers is a 3D mode in an effort to counter Google's Street View.
But many users won't find it compelling, as they simply won't see it. On Windows 7, users are required to download a small app and require the latest browsers from Internet Explorer or Firefox browser. Google Chrome is conveniently not supported.
On an Apple Mac the experience is more challenging - neither Firefox, Safari and Chrome support 3D mode.
Bing Maps remains in Beta mode.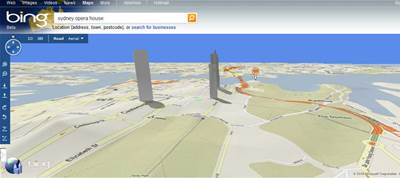 3D map of Sydney - missing a few buildings!
New York in 3D