Apple's iCloud service became inaccessible for a number of users across the globe for around three hours today due to problems signing into the service.
Attempts to log in to iCloud were met with "connection error" or "an unknown error has occurred" messages.
According to Apple's iCloud system status page, the problems started today at 6am AEST and were rectified at 9am.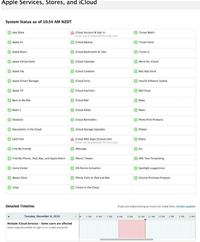 Apple support confirmed a "temporary issue with the iCloud service" but provided no further details as to the root cause.
Apple's iCloud website - which provides access to user accounts, the Find My iPhone device locator, productivity apps, and other services - was also inaccessible due to the sign-in problem.
iTunes and Music services were accessible, but purchases could not be made without signing into an Apple account. Likewise, in iTnews testing it was not possible to buy further storage on iCloud for macOS file and document syncing due to the sign-in issue.
Some users also reported being unable to connect to Apple's App Store.
@juhasaarinen @nz_liam aint just icloud pic.twitter.com/78zySC1FAB

— Tactical Maid (@tacticalmaid) December 5, 2016