Alcatel-Lucent has apparently been forced to use a horse-and-cart to transport a 360 kilogram replacement cabinet to a remote customer site.
The vendor said that severe blizzards in the upper Midwest of the United States cut road access, forcing it to seek alternate land transport for the replacement box.
Engineers managed to procure a pair of Clydesdale horses and a horse float from a local farmer.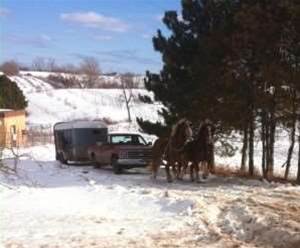 "The horse trailer bearing the equipment was hitched to the farmer's truck – complete with special snow tires and carrying Alcatel-Lucent installers – which was then hitched to the horses," the vendor said.
"Once the cabinet was unloaded at its destination, the dutiful team (horses, of course) trudged back down the hill pulling the truck and the trailer."
The horses were to be drafted in for a similar replacement job at a cell site "in the coming weeks".
(Images courtesy of Alcatel-Lucent)