Just three days after announcing its initial pricing plans for the release of the latest iPhone, VHA-owned mobile operator 3 has overhauled them, offering the 8GB iPhone 3G device free on a $49 plan.
In an announcement Monday, the cheapest plan where a user could have a completely subsidised handset was the $110 'Works' plan, which included a 16GB iPhone 3G S handset.
But just 24 hours before it begins selling Apple's new device, 3 has chosen to lower the bar for entry-level users.
"In the true spirit of the 3 brand, we've delivered real innovation at a truly affordable price," said John Casey, director of marketing at VHA.
The mobile operator will offer the 8GB iPhone 3G free on its $49, $79 and $110 per month plans and the 16GB iPhone 3G S free on its $79 and $110 plans.
The devices will be subsidised via voice and data charges over the length of the contract.
But the mobile carrier has also scrapped the 500MB of additional monthly data it originally advertised on the $49 plan.
Over the life of a 24-month contract, this change may prove far more costly for the user than the cheaper initial price for the device. The original pricing plans can be seen in this cached file.
Unchanged is 3 Mobile's additional data packs for those that wish to use their iPhone as a modem - all of which are sold on 24 month plans.
The pricing is also "subject to change", the company said.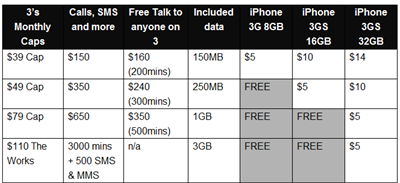 3's new iPhone pricing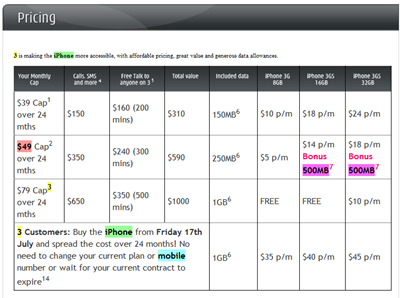 3's original pricing (Monday July 13)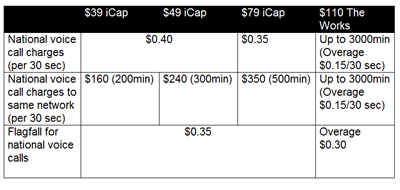 3's Voice charges