The Dualsim Slider is the type of concept phone we wish had been implemented a few years earlier. Unfortunately, it also feels like a concept phone still trapped at the concept stage and it seems the dual SIM idea holds more merit than the phone itself.
Check out our exclusive photo gallery here.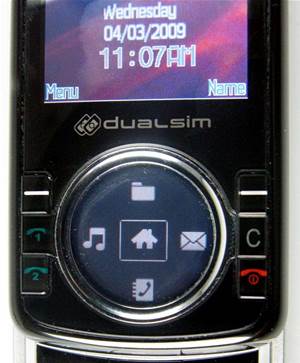 Poor design: The plasticky buttons let the phone down.
The Positives:
The phone is lightweight (125g) and fits easily into your pocket. The touch navigation pad at the bottom of the screen isn't too bad. The 240 x 320 pixel LCD screen is bright, large and easy to read. And there's even Bluetooth and a decent music experience to be had, with MP3/MP4 functionality and an FM tuner to get the party happening.
Obviously, the phone's biggest selling point is the convenience of having two SIM slots. That way, you can have a SIM for home and a SIM for work together in one phone. The possibilities of dual SIMs don't stop there.
You could also benefit from using two different networks (which show up nicely on screen). Two different network phone plans could also be handy: pre-paid and post-paid. It's little cost saving measures like this that show the usefulness of the Dualsim.
The Negatives:
In the wince category, there's no 3G or wireless - which borders on sacrilegious for most smartphones. Typing messages is also slightly bothersome without the use of predictive text, and the keys have a cheap, plastic feel.
The glossy fascia is a haven for fingerprints
Indeed, while some smartphones now use brushed magnesium and chrome stylings for the body fascia, the Dualsim relies on an overly-glossy, gimmicky plastic outer-body. It almost feels like a kit phone, something that was put together from low-grade factory components.
The touch screen is a little sluggish (touch commands register poorly) and the 850mA battery is far too small. The battery exhausted quickly after limited talk exposure. The lack of a 3.5mm input jack to take advantage of the music function is also a sore point.

Overall, the Dualsim is a neat idea bundled into a poorly manufactured phone. We can't recommend it, unless you're desperately in need of the twin SIM functionality.
Side by side with the 3 iNQ1