The Queensland experience
Queensland's first large-scale digital hospital arrived in November 2015. Cairns, Townsville and Mackay Hospitals underwent digital transformations the following year.
By mid-2017, the state had 24 hospitals in its sights for digitisation, along with an ambitious timeframe for completion by June 2020.
As of mid-August 2019, 14 public hospitals have undergone digital transformation. The sites are collectively responsible for "50 percent of all public hospital activity in the state," a Queensland Health spokesperson says.
But the timeline for conversion of the remaining public hospitals is now unclear. Following a review of the scheduling of all Queensland Health IT projects earlier this year, IT and digital efforts were re-prioritised.
In practical terms, the remaining tranches of hospital digitisation are now likely to occur from 2021 onwards, pending budget considerations.
Still, the project continues to attract visitors "from around the country and the world to see the best practice implementation of electronic medical records here in our hospitals," Queensland Health says.
eHealth Queensland CTO John Borchi says the level of change seen in the public hospital system as a result of digital transformation is "truly profound".
"This is the biggest transformation in public health in Australia and probably the southern hemisphere," Borchi says. "It's been an amazing journey and the achievements so far have been incredible."
Doing digital at scale in the public health system raises a number of potential complexities.
"One of the most fundamental changes that is happening for the first time is how clinical and business processes are now intrinsically converged with the technology," Borchi says.
"This means that clinical and business processes are changing to suit the technology process which means that critical decisions need to be made about patient safety, clinical efficiency and accuracy, business compliance with policy and legislation.
"For the first time, we have technologists and clinicians or business reps working side by side to deliver these programs".
The teams delivering digital hospitals required cross-functional input from project, operations, governance and assurance areas, among others. Just achieving this collaboration proved difficult for Queensland Health "as we have dispersed facilities across a large geographic location approximately the same size as Indonesia," Borchi says.
Another challenge is that unlike most government agencies, a public hospital is a 24/7 operational environment. "It is extremely difficult to implement change without impacting critical operations," Borchi notes.
Then there is the related challenge of what to do if a digitised hospital loses access to a critical system.
"Changing a hospital from paper to no paper at all and only electronic means that the reliance on that solution is remarkably greater," Borchi says.
Added resiliency measures are required "as the tolerance from the business for the system not being available or information in the system not being accurate is extremely low."
"As an example, if there is a system impact to a digital hospital, within 15 minutes, a hospital is deciding whether it will enact an emergency code, which can lead to patients being diverted, more staff being called in or delays in key health services."
The case for telehealth
Digital hospitals are not the only means of digital care delivery. Telehealth consultations have long been viewed as a favourable means of delivering health services, particularly for people that live too far from a hospital or specialist to attend in person.
The Aboriginal Medical Services Alliance Northern Territory (AMSANT), which is now in its 25th year, has seen - and been involved in - several attempts at getting telehealth services to take hold.
AMSANT champions the needs of Aboriginal community-controlled clinics across the Northern Territory.
Telehealth has obvious benefits for clinics; many are in remote communities only accessible by dirt road, and are hundreds of kilometres from the nearest public hospital.
"A lot of times, if the patient is a mum with kids or they've got work, it's really hard to attend a public hospital," digital health advisor Clinton Franklin says.
"For patients in Tennant Creek to get to Alice Springs hospital - because Tennant Creek hospital doesn't have all medical services - they have to get on a bus. It's a three or four-day trip to go for a 10-20 minute specialist visit because of the way the buses run.
"Then they get back into Tennant Creek after their consultation at about 3-4am in the morning, and there's no taxi in Tennant Creek. So it's pretty rough."
Several government schemes from 2011-12 onward have encouraged adoption of telehealth in Australia, though Franklin says the technology can still be "hard work", which affects take-up and use.
The initial roadblock was reliable connectivity into rural and remote areas, however this has eased in recent years with widespread availability of 4G.
Integration challenges
"Now, the main challenge with telehealth is getting it integrated into daily workflows in clinics that are already busy or overloaded," Franklin says.
Normally, if a patient needs to see a specialist, the remote clinic arranges a referral, books an appointment at Alice Springs Hospital, and then waits for the patient to return to discuss results and conduct any follow-up care.
Sending the patient offsite means the clinic can spend that time seeing to other patients. But clinics lose that time when specialist consultations are conducted via telehealth.
Franklin estimates a telehealth consultation can add up to two hours of administrative work for the clinic per session. Some simply lack the local resources to do that on top of their regular patient workload.
That's an issue because the patient experience is much better where telehealth is available. Patients spend far less time on buses, aren't left out-of-pocket for long trips. They have easier access to specialist care, both for diagnosis and treatment.
"Clinicians all know it's better for the patients so they're still trying to use it as much as they can," Franklin says. "They really care about the patient's care and the families, and they live in the community so they've got links to the community."
Data dilemmas
It's difficult to fully capture the opportunity for digital in healthcare.
There is a multi-year government-led program of work that uses digital technology to help patients and pharmacies safely dispense and take medication.
It is working towards real-time prescription monitoring nationally in 2021-22; some states such as Victoria have already built the capability. Others have built apps to help nursing staff administer the correct doses.
Artificial intelligence and physical robots are being trialled in at least one digital hospital in Queensland. The Japanese-made humanoid robot Pepper has also found its way to bedside care. Virtual assistants, meanwhile, are being trialled to deliver health programmes and keep patients focused.
Then, there is My Health Record, the government-led program that gives almost all Australians an electronic medical record.
Digital Health CRC CEO Dr Victor Pantano believes health services of the future will be heavily data-driven. He is advocating for more open access to health data to benefit patients.
"We have a lot of data in our systems, but how do we maximise our use of it?" he says. "Once we can bring it together and it can talk to each other, we can then start to convert it into information and knowledge, which is when we start to get real power from it, and real benefits or health consumers."
The Digital Health CRC is hoping to create a federated system to extract health data from state- and privately-owned silos and allow it to be accessed by permissioned users.
The CRC is working on governance models to address consent, privacy and ethical concerns involved with allowing wider access to Australian health data, and how that data could then be used.
Dr Pantano believes that, to achieve the most benefit, medical researchers, clinicians and others should be able to access consolidated, identifiable patient data. He argues the current trend to use de-identified, "generalised" data does not produce the best outcomes for patients.
"The problem with using de-identified data is you can't really bring it back to the individual," he says. "We need to move away from that, to a situation where we can start to use identifiable data to know actually you should be on this clinical trial, and we can target you specifically because we know who you are and we have access to your data.
"To start using identifiable data, however, people need to give you consent, which means people need to trust that users will access and utilise the data only for its intended use.
"How we get to that point is where I see the Digital Health CRC very much working."
Dr Pantano also sees a role for the Digital Health CRC to equip medical practitioners with digital skills.
"I definitely see digital tools helping with connecting people to the health system," he says.
"We have a large landmass in Australia, and I think we can use digital technologies much better to connect people into our health system."
"The ultimate reason why we do all this is because we want people to be healthier. If we can help them to be healthier and live better – and stay out of hospital and other acute care settings as much as possible - then that reduces the impact on our health system."
Patients' privacy
Privacy breaches involving patient data are a reminder that digital healthcare requires more than digitised health records. Healthcare providers must securely manage data throughout its lifecycle – from its initial creation to when the equipment storing the data is disposed of.
Like all companies, Australian healthcare providers have work to do on this front. During the first year of Australia's Notifiable Data Breaches (NDB) scheme, they reported 206 separate data breaches – 113 (55 percent) of which were attributed to human error.
This included 46 cases of lost paperwork or data storage devices, and eight cases of insecure disposal. The latter figure is likely to be under reported, as many businesses that dispose of IT assets incorrectly don't realise they are doing so – or that they are causing data breaches by doing so.
Often, only basic steps are taken to erase data before assets are sent to an e-waste provider or sent on to charities and community groups.
Securing end-of-life data
The healthcare industry is particularly reliant on aging IT infrastructure. There is a significant risk that healthcare providers will improperly dispose of old infrastructure as they upgrade and update it.
Healthcare providers are taking more notice of this problem as compliance and legal pressures increase.
"Traditionally, nobody focused on the risk of losing their data. They were only focused on what it would cost to dispose of end-of-life assets," says Nicholas Mann, National Sales Manager at IT asset disposal company EraseIT, a subsidiary of IT services provider Interactive.
"But we have customers disposing of servers and storage that literally have every piece of information they ever stored."
"They are only now understanding that there is a lot of risk there, and that they should sit down with their legal teams and develop an approach to data destruction and managing end-of-life devices."
Optimising logistics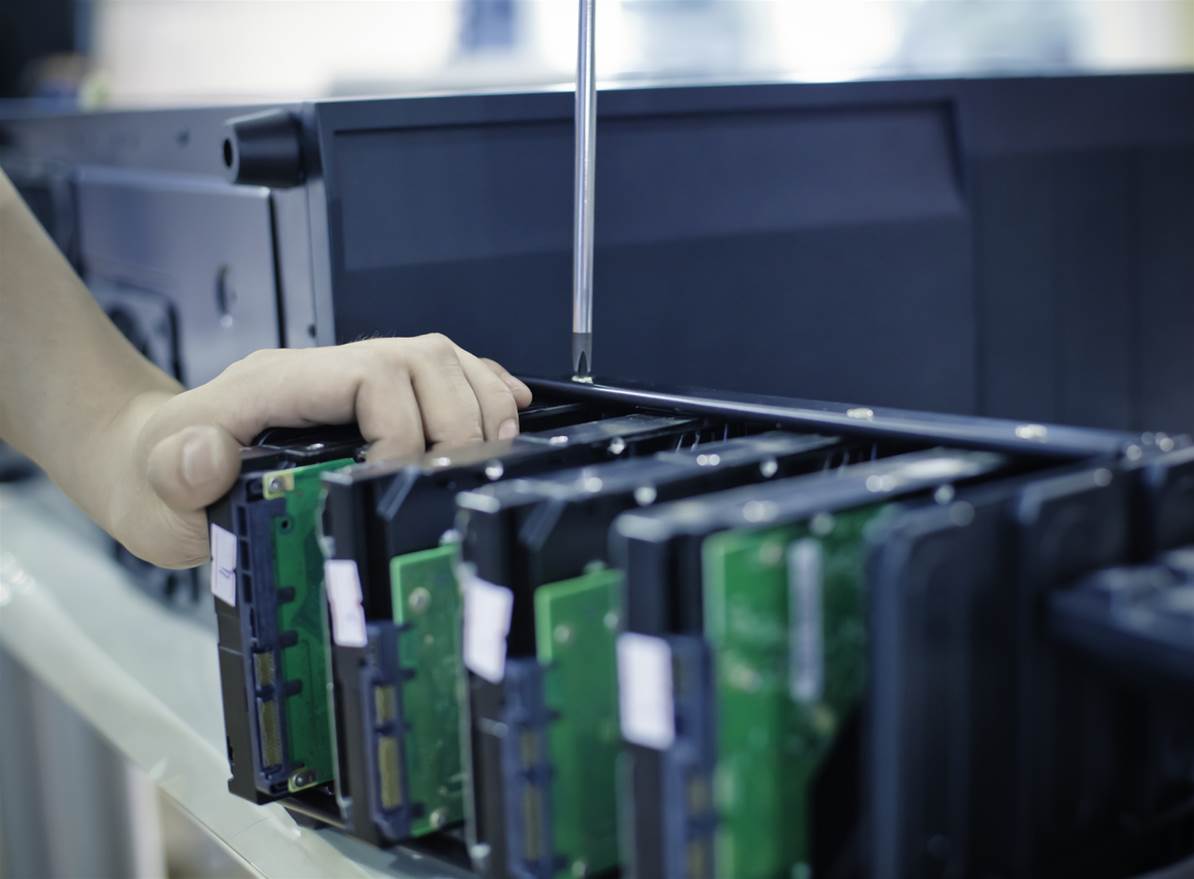 A best-practice policy would require end-of-life devices to be sent through a secure erasure and decommissioning process before being reused or recycled via formal e-waste procedures.
That's a big challenge for healthcare providers – especially those that have many sites, such as an EraseIT customer that manages more than 3,000 sites across Australia.
The customer had invested heavily in various digital systems for clinical and administrative work, complicating the task of securely destroying data as old systems were decommissioned.
Cost-conscious administrators often sold old equipment to the highest bidder – a practise that creates big risks if the data isn't destroyed properly first.
"Once we sat down and discussed the risk that the data loss presents," Mann says, "they didn't want any of their equipment leaving their site until they were comfortable it had all been erased and destroyed."
To reduce the risk of equipment being lost during transportation and the asset disposal process, EraseIT brought its specialised erasure and data destruction equipment to where the customer operated. This approach is ideal for large disposal jobs or when particularly sensitive data is involved.
Plenty of other customers are also benefitting from working with EraseIT. "We were after a reliable service and EraseIT definitely lived up to the standard," said Murat Delialioglu from NPS Medicine Wise. "They delivered exactly what was promised. I would definitely re-use and recommend their services."
"We used to call it an asset disposal service – but in today's environment, customers realise the service EraseIT provides really is a risk mitigation service," Mann adds. "Mitigating that risk is critical for any provider who wants to fully commit to realising the benefits of digital healthcare delivery."