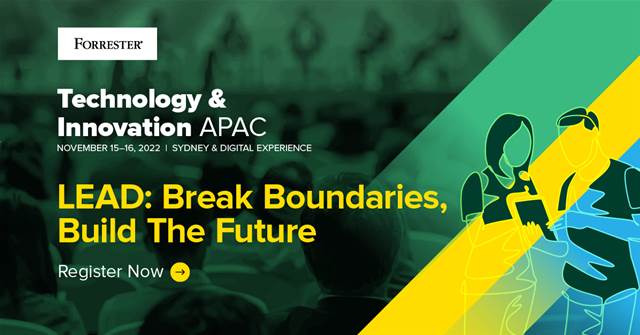 Forrester Technology & Innovation Asia Pacific 2022
More:
Register:
Pricing:
For any questions regarding ticket and sponsorship inquires, please contact apacmarketing@forrester.com
Join Forrester experts, industry leaders, and your peers on November 15-16 at Sydney Hilton, 2022 to hear how technology leaders are embracing new ways of being innovative with technology, and discover key strategic opportunities to help your organsation grow. Whether you are the CIO, a C-level leader, a VP of a digital team, or an operational leader with an interest in how technology and innovation impact business growth, Technology & Innovation APAC will boost your knowledge and confidence enabling you to drive your organisations digital transformation and better business results.
LEAD | Break Boundaries, Build the Future


Today's high-performing technology executive is asked to be a visionary and a tactician; a dreamer and an engineer; a creator and a craftsman; a philosopher and a pragmatist. But above all, they lead.
They are the force that propels their teams from efficiency to effectiveness, they break down the silos holding their business back, they dream strategies that will shape the next decade of growth and unleash ways to become even more customer-obsessed and human-centered.


More is being asked of them as leaders than ever before and empowering them with the tools and strategies they need to succeed has never been more important. Tech executives must take the lead, be the architects of tomorrow's business, and empower their teams to be the engine room of creativity, inspiration, and innovation that supercharges business outcomes.


Technology & Innovation APAC 2022 will bring immersive experiences that provide invaluable insights and actionable advice to drive better business results. During the event, we'll give you guidance on how to grow your vision, frameworks that improve your strategy, hone your skills and expand your community.



In 2022 Forrester Events will be offered digitally as well, attendees who choose not to join us in-person can still gain access to the content from the event.
Event Information:
Nov 15 2022 9:00AM
to
Nov 16 2022 1:30PM
488 George Street, Sydney, NSW
Sydney: City & inner suburbs, New South Wales, Australia