Retail bank ANZ has paused rapid expansion of its massive agile-based workforce transformation.
ANZ chief executive Shayne Elliott on Wednesday revealed the institution will instead try to make its existing program work far better, rather than pushing it beyond the current 9000 employees.
Speaking to ANZ's H1 2019 interim results, Elliott told iTnews the bank's management does not have a headcount target for further expansion of what the bank has dubbed 'New Ways of Working', saying that the "primary objective" now "is to get that running really, really well rather than keep adding to the number."
"We are not giving up, we are not saying we are done, but for now we have taken a really big step forward with 9000 [people]," Elliott said.
ANZ on Wednesday revealed it had raked in a $3.5 billion cash profit for the first half of 2019, a hike of 2 percent over the previous corresponding period, a result that firmly met or beat investor expectations in particularly tough market and regulatory conditions.
Last reporting period (H2 2018), ANZ trumpeted New Ways of Working (NWOW) had roped-in 9000 staff as it moved to comprehensively simplify the products and services it offered.
To put the scale of the NWOW effort into perspective, the agile reform push is predominantly within ANZ's Australian business and covers around half of its local employees based on current headcount numbers.
(More on headcount in a moment, because that's where there was movement.)
Those moves came concurrently with shifting to primarily digital footing, including a partnership with agile pin-up vendor Atlassian to shift internal culture.
That NWOW number didn't increase this reporting period and may now hold steady. And there was no mention of staff playing with Lego.
Cultural challenges
ANZ recently revealed it's faced some substantial challenges getting the NWOW cultural fit right, including making many people in the 9000 strong push re-apply for their jobs using video interviews.
While the bank has cited some conspicuous productivity improvements of being able to do the same amount of work with up to 30 percent less staff, Elliott made it plain there are operational limits into how far and fast enterprise agile programs like NWOW can travel.
"I don't have a target, I don't really care what the number is, if it works we want more of it," Elliott expounded... before listing where new ways of working, well, doesn't really work.
"It doesn't work in some areas. It won't work in contact centres, it won't work in branches, it won't work in a dealing room," Elliott said before pouring some very cold water on the overuse of the great agile managerialist meme.
"It's not about agile, that's why we called it New Ways of Working," he contested.
"It's about the best way of working for you that delivers speed, productivity and the best outcomes for customers.
"Not [making] you work in a way that we impose on you because it looks good on an org chart. We don't have a target, but are going to continue to transform," the ANZ chief stressed.
But there are still some agility targets, albeit without big numbers. Ironically, this includes what used to be known as the human resources division.
"Our talent and culture team is moving that way, they are about 600 people," Elliott said.
Headcount shrink in war on costs
Agile or not, ANZ's rock solid number was conspicuously helped along by what's now a 5 percent headcount reduction over the past 12 months, de-staffing that happened concurrently the NWOW program alongside with a spate of divestments aimed at streamlining operations.
Technology-led cost cutting – automation, robotics, process optimisation and service digitisation – helped jettison plenty of people over the past year as the institution prepares for lean post-Royal Commission times.
The numbers on ANZ's total FTE (full time equivalent) headcount fell from 39,655 people to 37,364 according to its divisional staff movement numbers, a fall of 2291. The same chart shows ANZ has dispensed with the services of a whopping 9,470 staff since March 2016 when headcount stood at 46,834.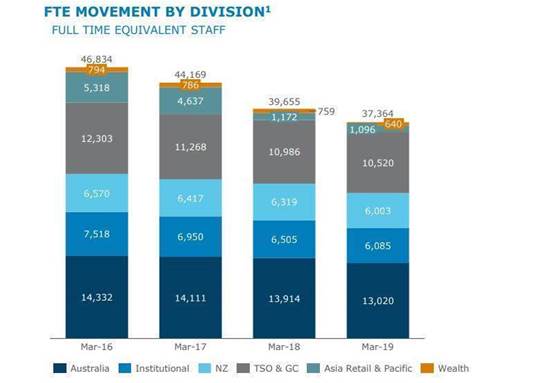 The good news for technologists is that Elliott and ANZ forsee tech staff making-up a bigger proportion of the shrunken headcount.
Explaining ANZ's technology cost base, Elliott stressed to analysts that when he said technology "it's not just boxes and wires its people."
"The proportion of people in tech will go up," Elliott said.
"In terms of boxes and wires we have to get value from that."
Tech spend also firmly down
Better 'box and wire' value is being doggedly pursued. Notably, technology expenses including amortisation also dropped $69 million for the reporting period as did ANZ's software capitalisation which shed 4 percent to $1.4 billion.
This came despite the bank saying it has shifted "2 million customers to contemporary platforms."
Capitalised software was also called out as a sectoral best which the investor slides said "continues to be lowest of domestic peers."
"The tough retail banking environment will be a reality for the foreseeable future. We knew three years ago there would be strong headwinds and have taken action to respond head-on, including restructuring our Australian business," Elliott said.
Elliott added that it was not just ANZ's high profile digital banking chief Maile Carnegie or CIO Gerard Florian pushing the mass modernisation agenda, it was a group-wide effort.
"With Maile's input and Gerard's it's not a tech transformation it's a business transformation," Elliott said.
"We are rethinking the whole business".
There are external fans of that rethink, especially on the institutional side. ANZ recently revealed its recent deal with the NSW government to be a second transactional bank alongside incumbent Westpac will see it tap into customer data.
$8 billion bank ops target
Where ANZ and its perpetual state of transformation, now led by Maile Carnegie, is headed in the near to medium term could be described as an operational paleo diet.
Annual operating costs – what it costs to run the bank per year – are slated to fall $8 billion a year, an ambitious number Elliott said would require cost reductions and efficiencies of around $1 billion over the next next years.
Some of this would come from the simplification and digitisation of products, especially now that ANZ could better control how it spent annual investment of around $1 billion a year so it doesn't get sunk into maintaining underperforming service lines or products and costly legacy.
"We have to retool for a data and digital world," Elliott said, adding that with simplification "we get to choose not spray" across non-performing businesses.
To that end ANZ claims it has "maintained digital wallet leadership with more than 88 million transactions in the last 12 months, with total customer spend up 114 percent" in that same period.
Those transactions are being watched closely, especially by ANZ's residential lending department where they're super keen on spending data, even if they occasionally bite off more of it than they can physically swallow.
Messy mortgages
Not all of the operational retooling, especially when prudential and risk settings come into play has gone smoothly, Elliott conceded, especially in home lending were ANZ ceded market share.
Tightening lending criteria – partially in response to responsible lending pressure and central bank fears of a bubble – substantially upped the volume of documentation applicants needed to provide to the bank. Neither digital nor traditional channels made a good fist of it.
Elliott said ANZ now asked applicants "a helluva lot more questions" while drilling into their expenses and asking for better income documentation, like more payslips.
"It's quite clunky, we didn't do it in a smooth way," Elliott said. "It got out to 20 days, we were struggling."
Comparing mortgage applications to a finely tuned production line that previously rejected single digit percentages of applications Elliott said "suddenly 20 percent was going down the reject line" – before swiftly stressing that the 20 percent number was actually an illustrative number he'd just made up on the spot to illustrate, not a real one.
"We're putting more loan assessors on," Elliott said, adding it had been too hard to get a loan with ANZ, it took too long, and the bank had just asked "for too much stuff".
The head of ANZ's retail bank, Mark Hand, concurred.
"The new arms race is the speed to assessment: automation, getting the documentation together," Hand said of current lending market conditions," Hand said.
"This is not the time for waiting and hoping," Elliott said.
Agile or post-agile, new ways of working or old fashioned human grunt, ANZ is on the transformation journey for real now.