Logistics giant Toll has re-platformed its global express business to run on a new technology stack, creating a single view of the customer and culling manual processes used in its operations.
The first phase of the project was completed at the end of February 2018, and saw Toll initiate a "big bang" cutover from a Siebel to Salesforce CRM system, and implement Genesys cloud for intelligent routing within its contact centre operations.
A second phase of the project is "under review" and is likely to involve expanded use of Salesforce, though no timeline was provided for this package of work.
Speaking at the Dreamforce 18 conference in San Francisco, Toll Group's CRM business manager Brenton Watson said that the Siebel CRM had trouble keeping pace in peak times, such as the pre-Christmas rush in November and December.
"Our previous CRM system didn't really perform in peak times when we needed [it to]," Watson said.
"We needed to make sure we were fit for purpose.
"Also, the old CRM system never changed. In the five years or so that I used it, I never saw anything different."
By April 2017, it was clear to Toll that Siebel had reached its end-of-life, said Debashish Mukherjee, APAC Salesforce practice principal within Infosys, which would ultimately be handed responsibility to deliver the transformation.
The timing was also right for change: having come under new ownership from Japan Post in 2015, Toll found itself with a mandate for organisational transformation - and a goal to provide a consistent customer experience across its operations.
That meant reviewing all its existing processes, identifying opportunities to unify similar processes between different business units, and essentially completely refreshing how it operated.
"Toll wanted to have a single face for its customer, regardless of what division or business unit the customer interacted with when talking to Toll," Mukherjee said.
"It was important that the contact centre agent, executive or depot worker all offered a single face of Toll to the customer."
The business case for CRM and contact centre system change had five main pillars.
Toll set a goal to reduce manual processes through automation, with the hope of saving every sales and marketing agent 10 minutes a day.
One of the processes ripe for transformation was re-delivery scheduling for instances when the intended recipient was not present when Toll arrived.
"There was a lot of manual effort in organising redeliveries or rebooking for those redeliveries," Mukherjee said.
Toll also wanted to cut the time taken to handle a delivery booking call from an average 180 seconds to 150 seconds. It saw opportunities to do this by reducing the number of clicks an agent had to make for even simple transactions in the old CRM.
Toll also saw opportunities to reduce data handling and to improve customer retention; Mukherjee said that Toll "had lost some of their key marquee customers" due to system outages, and need to turn that around.
Infosys was appointed to the project in April 2017. By September, the company produced an "initial showcase" for what the new CRM and contact centre capability would look like, and received approval to proceed.
The actual timelines for the remainder of phase one were tight, with cutover needing to be completed before the end of the financial year ended March 31 this year.
"Doing this in eight months was a big test for the program team," Mukherjee said.
"From September 2017 onwards we gradually started engaging key arms of the business.
"Customer service was spread across multiple contact centres in Australia and Philippines. There was the entire operations/depots that deliver the packages to the customers, and then there was the sales and marketing community."
The actual windows for implementation and training were even smaller, given the time of year.
"Basically during November and December was our peak period and then a lot of team like to go on holidays in January, so unfortunately for this year we only had six weeks [after that] to roll out to 1600 people," Toll's Brenton Watson said.
Despite that, the cutover took place ahead of schedule on February 26.
Watson said the project was "very difficult". One thing that made things slightly easier was that most users were ready for a CRM change, and those that weren't had now had time to get used to it.
"We've now moved through that and are starting to optimise the system," Watson said.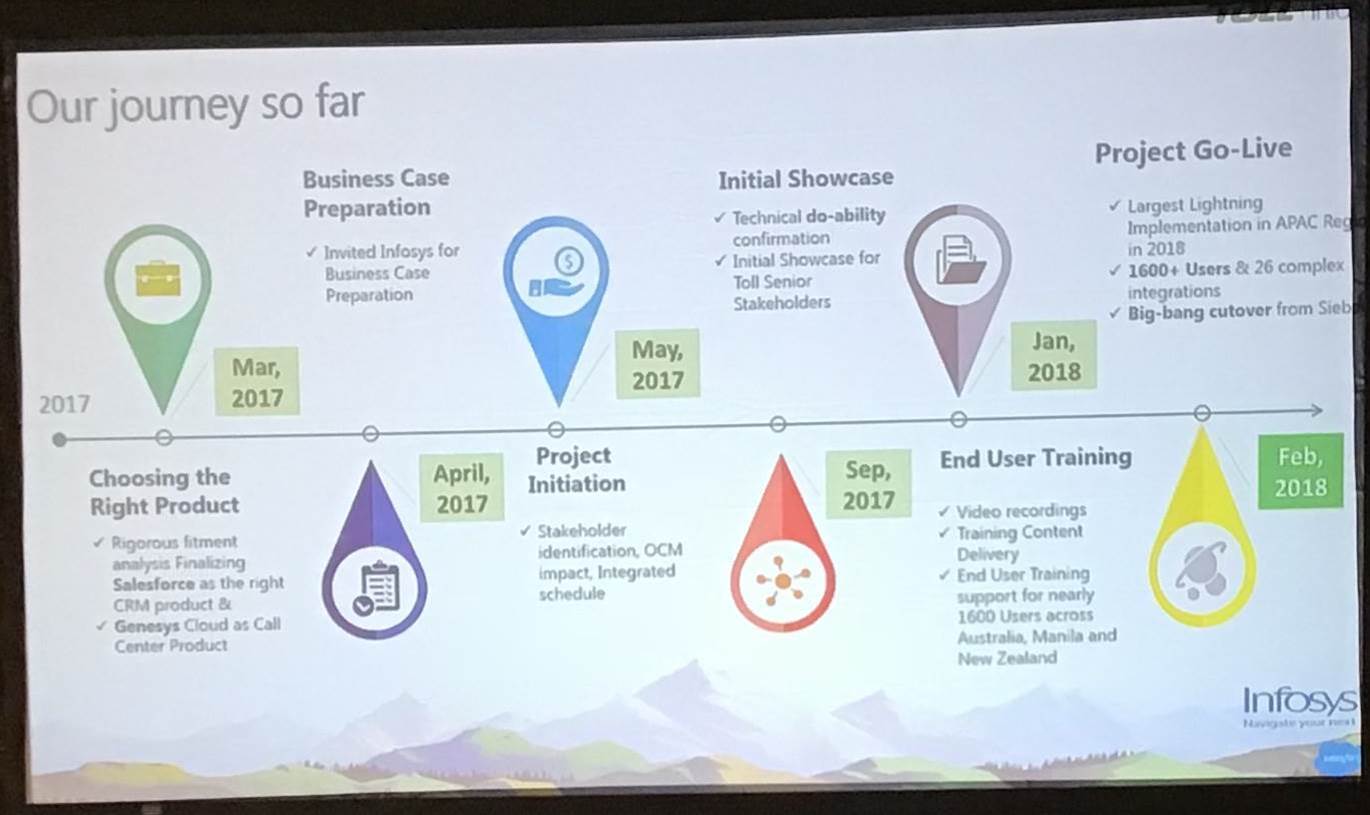 The new stack
On the Salesforce side, Toll has implemented sales cloud, service cloud and marketing cloud.
Watson said Toll is still "very new" with marketing cloud.
"We've done some basic campaigns," he said. "We're going to be doing some very rapid campaigns over the next couple of months."
Toll didn't migrate all data from Siebel to sit within the new Salesforce CRM, though the amount it did bring across was still significant: amounting to 160TB of data storage and 450TB of file storage, said Soujanya Vuyyura, a senior project manager at Infosys that also worked on the project.
Salesforce classifies storage in its platform as either file or data. Toll had petabytes of both types of data stored in its legacy CRM environment.
With phase one of the CRM transformation complete, the single view of customer is now active.
"if I'm dealing with Toll, all transactions whether it's cases, bookings or tracking events come under an overarching customer entity," Mukherjee said.
"When an agent is talking to a customer he or she can resolve all of the customer's queries in a single call and have a single dashboard view of that customer."
Omnichannel interactions are recorded in Salesforce, regardless of what digital channel the customer comes in through.
The system makes it easier for Toll to keep both its B2B customers and the customers of those companies - who are the ultimate recipients of packages - informed about delivery status.
Mukherjee said that meant, for example, that a missed delivery for an e-commerce company like Kogan could be rescheduled, and the revised delivery information would be circulated back to Kogan so everyone was aware of the order's status.
Mukherjee said that delivery bookings had increased 30 percent since the new systems were bedded down.
Future focus
Vuyyura said that phase two of the project would bring about "more transformations".
"We will be providing a platform for partners to log in and raise orders," she said.
"We'll also be going to [Salesforce's] community cloud so Toll can collaborate with partners, and we'll look at Salesforce Inbox so the sales team can plan their appointments and have that information all in a single place."
Vuyyura also indicated that Toll would likely introduce both Einstein Analytics and Einstein Voice into its environment.
Depending on timeframes, that could make Toll one of Australia's first adopters of Einstein Voice, which was soft launched by Salesforce in the week prior to Dreamforce, and then featured heavily in the main keynote.
Einstein Voice will provide a voice-based interface to allow customers to quiz the contents of their Salesforce instance using natural language requests.
Ry Crozier is attending Dreamforce 18 in San Francisco as a guest of Salesforce.