Fixed wireless NBN users are unlikely to see much change from revised network design rules published earlier this week.
The rules [pdf], first spotted by NBN watcher Ken Tsang, lower the "maximum number of connected premises" in a wireless sector, and provide for a substantial increase to microwave backhaul.
While the changes appeared to point to documented efforts by NBN Co to reduce congestion on the fixed wireless network, the practical effect of the changes will be largely muted.
The first part of the change deals with what NBN Co calls the "maximum number of active premises in a wireless sector".
NBN Co calls its base stations eNodeBs. Each has a standard three sector antenna architecture.
Traffic to and from up to eight base stations is aggregated through a microwave "hub site", from where it is then hauled back to a fibre access node (FAN).
In its 2015 network design rules, NBN Co put the planned maximum number of active premises per sector at 60.
That meant a maximum of 180 end users per base station, and 1440 end users through a single microwave hub site.
In 2017, the planned maximum number per sector was bumped up to 110 premises (allowing for up to 330 end users per base station, and up to 2640 end users aggregating through a single hub site).
The latest update - dated June 29 - sees that maximum per sector - and per base station - drop back down again.
"The planned maximum number of connected premises in a sector has typically been 110 premises but is now moving towards 56 premises in each sector driving the need for additional sectors to support capacity demand (this may vary depending on the exact positions and radio conditions of the served premises)," NBN Co said in its new network design rules.
But this does not mean NBN Co will immediately start serving less users per wireless sector.
The operational words are "moving towards" - and NBN Co confirms in the new design rules that aspiration does not kick in immediately.
The company says that it will still aggregate up to eight base stations through a single hub site "with a maximum of 2640 end users", exactly the same upper limit as the 2017 design rules.
iTnews has confirmed that the aspiration to serve 56 premises per wireless sector will kick in gradually, as capacity demand changes.
For the time being, however, the "maximum" number of premises that can be aggregated via a microwave hub site is still up to 2640 - that is, up to 110 premises per sector, with three sectors per base station and up to eight base stations per hub.
Perhaps more importantly, despite the fluctuations in the maximum number of premises able to be served by a single wireless sector, there's no evidence NBN Co is going anywhere near those kinds of maximums in the actual rollout.
In fact, the design rules show the number of wireless premises being served by a sector has not shifted over time.
In 2015, NBN Co said in the design rules that "each sector supports on average 60 premises". This number - and exact wording - is found in both the 2017 and mid-2018 design revisions.
Had NBN Co rolled out base stations serving a theoretical 110 premises per sector - instead of 60 premises - to any great extent, this would have clearly been shown in the average figure.
In short, current congestion in the fixed wireless network is unlikely to be the result of NBN Co suddenly adding large numbers of extra premises to each sector.
That also means NBN Co is not going to suddenly deploy more sectors to reduce the number of premises each serves (though its design rules now give it a documented basis to do so, should it want to and have funds available to do so in future).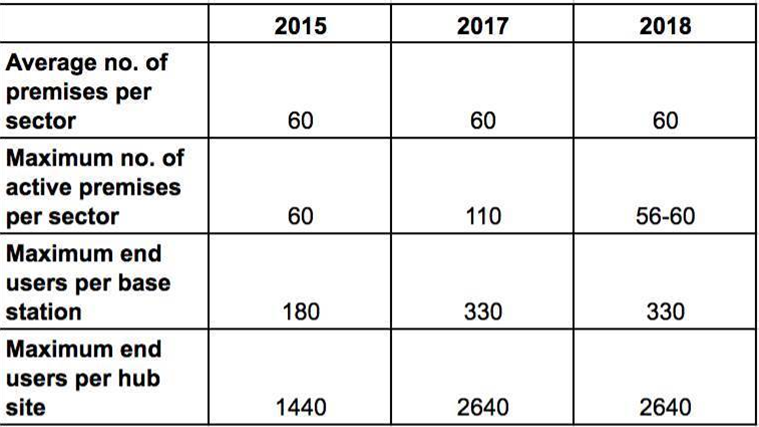 The second change in the new design rules is more straightforward - paving the way for a boost to the "maximum bandwidth planned for a microwave hub site back to a FAN site".
It has consistently been 900Mbps in past iterations of the design "but is now moving to 4Gbps to support capacity growth", NBN Co said.
But again - adding this to the network design rules is no indicator that existing sites will be upgraded to the new backhaul capacity.
iTnews understands that the sum total of these two changes - to the maximum allowable number of premises served by a wireless sector, and to the maximum backhaul between a hub and FAN site - will have no noticeable impact for existing end users.
Only new base stations or sectors being deployed will potentially conform to the new network design rules.
NBN Co said this week that 99.92 percent of premises outside major urban areas are either in design, under construction or complete. That means the vast majority of the fixed wireless network has been deployed.
While some upgrades are in progress, these are limited and it's not clear whether they would conform to the new rules.
NBN Co is pitching the new rules as more of a future "capacity upgrade path for fixed wireless", which may manifest in the network down the track, rather than mean any specific, immediate overhaul of its fixed wireless network.