The first thing that grabbed our attention when we fired up the review unit wasn't the unit's obvious good looks or the screen's crystal clear TFT display (1366 x 788 LED backlight), but it was Intel's latest CPU advance, the Z550 Atom.
The 2.0 GHz chip, which hasn't been seen outside of Japan until now, is primarily used in another of Sony's netbooks - the Japanese Sony Vaio P model.
And while critics haven't been overly kind to the Vaio P, we're pretty sure most people are going to love the mysterious Vaio X for entirely different reasons: it's sleek, relatively fast, has a decent battery life and most of all, it's also very, very light (655 grams to be specific).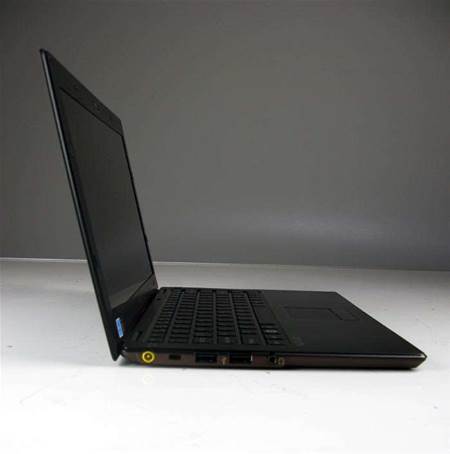 The Sony Vaio X series : one of the most attractive ultraportables we've ever reviewed
We were lucky enough to be the first to review the Vaio X in not just Australia, but the world. Sony lent us the VPCX117LG/B to check out, an international model that features identical specs as the Australian unit, but without on-board 3G - a feature the Australian model (VPCX118LG/B) thankfully includes. Sure enough, that's going to be a sorely missed feature for international Vaio users.
At 13.9mm the Vaio X is extremely thin
Specs
At $2499, Sony are happy to call this a notebook - and at this price, we'd be inclined to agree. However, the usual netbook characteristics apply to the Vaio X: a small form factor (11.1in size), an incredibly light weight and an Atom chip. But not just any Atom.

Speed wise, the X is no slouch either. When the Atom Z550 chip was first announced in April earlier this year, netbook users were keen to see how the chip's multi-threading and low-power needs (it runs at less than 3 watts) would translate into real computing power.
At first look, the good news is that the X copes rasther well with the new chip design. Our test unit had a quick response time, with programs opening quickly and playing without lag. The Vaio X is obviously helped by the presence of 2GB of RAM and Windows 7 Professional (32-bit) - made to run on lower power Atom machines.
Two other X models; the VPCX113KG/B ($1,699) and the VPCX115LG/B ($1,899) will also go on sale in Australia for significantly less, but will ship with more basic versions of Windows 7 as a result.

Apart from OS changes, the only notable hardware differences between these cheaper models are their lack of 3G support and the inclusion of the Z540 (1.86Ghz) Atom chips, instead of the more superior Z550 models.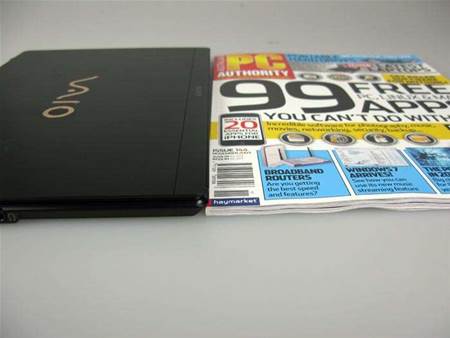 Magazine thin. And at 655 grams this a great ultraportable for business travellers
Storage, wireless
But there are some other nice surprises on the X, including a shock proof 120GB SSD (huge, considering the average SSD size is just 64GB) and some improvements in wireless functionality. The Australian X118/B will come with WWAN for greater outdoor signal coverage. It's also the first Vaio model to feature integrated 3G. It's ready to go with Optus, but Sony tells us it will work with other carriers too.
Graphics
In addition to the Z550 chip, Intel's other big chipset is also onboard: the new GMA 500 supports MPEG 2, MPEG 4, H.264, VC1 and WMV9 decoding for 720p HD image processing. The better processing ability of this graphics chip should be heartening to multimedia users, who are probably eyeing Nvidia's Ion system for their next netbook by now.
Design
Last but not least, design is probably the number one factor most are going to celebrate with the X. The unit is encased in sleek carbon fibre, giving it a super-slim, modern look. It's magazine-light form factor is actually a world record setting 13.9mm thin. Porting it around the office hardly felt like carrying a laptop at all. It's that good.

Competitors such as MSI's X340 (20mm) and Apple's Macbook Air (19.4mm) are not even close. Sony Vaio's have a history of lightweight, super-thin form factors - but never one as good as this. The chrome alloy plating is modern and sleek, keeping fingerprints at bay.


Sony's standard chicklet keyboard applies.

Sony's new high speed Memory Stick PRO HG-Duo cards are also supported in the X118 model, and there's an SD card slot thrown in for good measure.
Battery
The X118 should also be good for a long distance flight. Using the optional battery Sony claims the Vaio X will run for a whopping 14.5 hours (though we suggest real-world useage will likely be less). The standard wafer thin battery which ships with the X118 is also rated to 4100mah; good for 6.5 hours, according to official Sony specs.
Overall
This is a must-own Vaio, the best we've ever seen from Sony. It's attractive, light weight and easy to travel with, whether for business or for pleasure. It is the ultimate ultraportable, a notebook of such lightweight description - we're just waiting for the competition to grab their tongues and try and make something that comes close. Sure, it's not a gaming machine - but it will please most others.