It's an unfortunate truth that a number of security software vendors seem to think that the needs of a small business are the same as an enterprise. Their small business solutions are simply rebundled enterprise applications, oblivious to the specific needs of smaller organisations. F-Secure's Anti-Virus Small Business Suite 8 is one such product - it has the power and flexibility of an enterprise product, but it also comes with a good deal of the complexity of one.
The small business suite is essentially a bundle of five elements: a client agent, a management server, a management console, an anti-virus product for Windows file servers and an AV scanner for Exchange.
The latter elements are obviously only useful if you're running a Windows server product, and the platform support is quite limited: the file server solution only works on Windows 2000, Windows Server 2003 and Server 2008. The Exchange scanner requires the 2007 version of the product, and it has to be running on Windows Server 2003 or Windows 2000.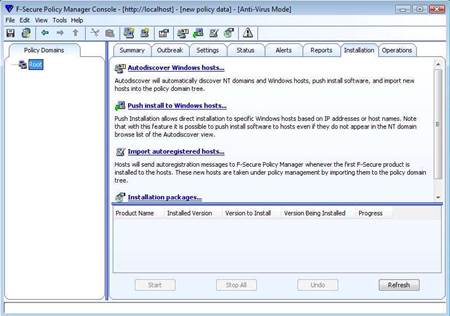 Powerful, but complicated - F-Secure Anti-Virus Small Business Suite 8
The management server meanwhile can install on a broader range of platforms, and forms a central repository of information for clients. The console talks to the management server (which may or may not be on the same system as the console) and from here the attached clients can be managed and installation packages for deployment created.
It's a little retro in its look and implementation, but the good thing is that individual PCs and groups of PCs can be managed comprehensively, with an interface that not dissimilar to the interface a user would see on a desktop. If you've had experience managing a personal security suite before, managing individual PCs from the console should not be too difficult. Connecting it to a domain or creating installation packages is not so easy, however, and you may need an expert to do some of the initial setup of the system.
The server also collects some very advanced logging and reporting information. It collects security alerts from F-Secure's site as well, keeping the administrator up to date on the latest outbreaks.

The agent itself is primarily an anti-virus and firewall tool - it doesn't support anti-phishing or identity theft, for example. It does, however, scan both local email and HTTP transmissions for incoming malware, and it has a very powerful and highly configurable firewall attached. All it settings can be either managed remotely through the management console or locally using an interface similar to consumer security suites.
F-secure has the fundamentals of a very good system for small businesses here, but it really needs to work on issues of accessibility and installation to make it easier for small business to deploy the tools. Once I had it up and running, I was very pleased with the suite, but getting it up and running may prove too challenging for less technical users.