The 10.2" HP Mini 2140 is a big step up from the very average, groin-endangering HP Mini 2133 that came before it.
The 2140 features a 92% size keyboard, which is a dream to type on as a far as netbooks go. The 1.6Ghz Atom chip in the 2140 is a big step up from the VIA chip that shipped in the 2133, and the 160GB HDD in this release will be ample enough for most people.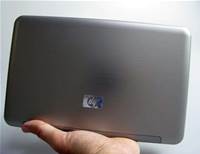 The 2140 is so slick, and dare we say very James Bond - it raised more than a few eyebrows here in the office when we unboxed it. Glossy magnesium alloy protects all surfaces, including the keyboard. There's none of that cheap, plasticy feel. The 2140 feels solid enough to drop, but we don't advise it all the same.
The 16:10 LED screen is glossy and might distract or annoy some people, particularly if you're intent on taking this outdoors. Icons are a little smaller, but the screen is tailor-made for watching widescreen DivX or QuickTime movies.
There is an option for a 6-cell battery that supposedly pushes the unit to more than 7.5 hours of battery life; we'll this with a grain of salt till run our benchtest. The stock 3-cell Li-on battery is standard for many netbooks these days, so don't get too excited unless you're ultra-keen on spending an extra $169 for the 6-cell battery. It's not a bad investment if you value a whole work day of battery life on your netbook.
The Mini 2140 keyboard

The 2140 is light at 1.19kg and easily fits in the palm of your hand. It's perfect for putting in a backpack or handbag on the way to work or an appointment. The power supply is also rather small, which is a nice change to the usual bricks we see.
It doesn't come cheap at $799 - a high price, though up there with the starting price of the highly recommended ASUS 1000HE. Though the HE is not as streamlined and light as the Mini 2140, making it the netbook for form and functionality. Add a six cell battery and you're talking about a very hard-to-beat netbook.
Check out our Photo gallery for the entire unboxing process.
Stay tuned for our full review, coming soon.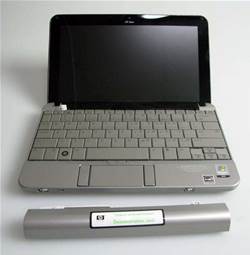 Battery with HP 2140