Google has added new features to its Cloud Platform Compute Engine, aimed at handling heavy traffic and high transaction workloads.
The HTTP load balancing service lets users spread incoming network traffic over several virtual machines, providing better performance, application scalability and content-based routing.
Google claims the service also detects unhealthy VMs and redirects requests to healthy ones.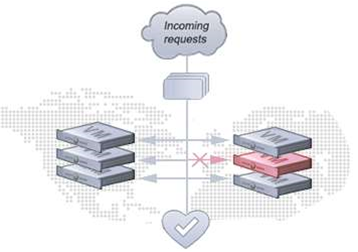 Cross region HTTP load balancing. Source: Google.
Beyond simple network load balancing, the new service can also be used across multiple Compute Engine regions around the world.
A single Internet Protocol address is used for the global load balancing and Google says traffic is intelligently routed, based on proximity to closest instances.
The underlying stack that enables HTTP load balancing is based on Google's Andromeda network virtualisation, introduced in April this year.
Andromeda provides a software defined networking (SDN) substrate, Google said. The aim of Andromeda is to provide the full performance of the raw networking layer while exposing network function virtualisation or NFV.
According to Google Cloud Platform management lead Tom Kershaw, the HTTP load balancing can scale to support more than one million requests per second with no cache warm-up or pre-population.
Google also introduced a new storage feature for Compute Engine today. The solid state drive (SSD) persistent disk option supports up to 30 read and write input/output operations per second and per gigabyte, and is aimed at high-performance use cases.
Compared to Google Compute Engine's standard persistent disk, the IOPS figure is about one hundred times higher for reads, and twenty times higher for writes.
The solid state storage option also provides substantially higher maximum sustained throughput at 0.48 megabytes per second per gigabyte for reads and writes, compared to 0.12 and 0.09MB/s per GB for standard persistent storage.
SSD persistent disk is charged at US$0.325 a month per gigabyte, whereas standard storage costs US$0.04 per gigabyte per month.
HTTP load balancing and SSD persistent disk are available as a limited preview currently.