Logistics giant Linfox is embarking on a big data-crunching proof-of-concept exercise that could give its control centres the ability to predict hazards and help drivers navigate around them.
The company is using a SAP HANA in-memory analytics database engine to crawl about 12 million real-time records generated by telematics equipment on a subset of its 5000-plus truck fleet.
Real-time truck positions are mapped geographically. Desk-based controllers in centres in Western Australia and Thailand can drill through the data to street level to work out why trucks might be delayed or over the speed limit in a particular location.
The HANA-backed system also interrogates millions more historical data records to check if the same issues have occurred in that same area before, and maps the result.
It is hoped the speed with which this data-crunching occurs will allow control centres to quickly intervene if they recognise history repeating.
"We want to be looking at right-now's information to determine what's going wrong and how can we tailor it to get a better result," chief information officer and supply chain president, John Ansley, told SAP's Sapphire Now event.
He said putting the HANA system into production could allow the company to get the information, crunch it in real time and compare it against trend data.
"If we see something that's occurring today that looks like something that happened weeks ago, and we know that gave us a bad outcome, we can actually do something more quickly about it."
Ansley said that something might mean messaging drivers "before they get to a danger spot".
No need for speed
In one of several technical demonstrations of the proof-of-concept, the company focused on locations where trucks briefly exceeded speed limits. A cluster was identified, and drill-down into the map initiated.
A terrain view showed mountains and hills nearby, and the problems were limited to a single traffic lane, pointing to a downhill run.
"We could be messaging the trucks as they're approaching this area and say, 'Please take caution, you're about to approach a long downhill run where you're likely to overspeed'," Ansley said.
"So we can really have some influence here if we've done the predictive work first, and figured out exactly where these areas are for us."
Truck utilisation
Linfox is also turning the proof-of-concept to tackle problems with idle assets. Improvements could result in utilisation, financial and sustainability benefits for the company.
"If we've got a vehicle that's waiting to be unloaded or loaded at a customer site, should we be charging the customer for that?" Ansley said.
"Is that a demurrage instance where we should be saying, 'Hey. We've got an agreement with you that says we won't be here for any longer than half an hour or 45 minutes. If we're here two or three hours we start to renegotiate our contract and make it make sense for both of us'."
A technical demonstration of the big data system turned up several clusters of idling trucks.
Ansley identified one cluster as being Linfox's workshop, and two adjacent clusters as "refrigerated components".
"They will look like their idling but actually it's OK for them to be idling because its refrigerating containers, so if they're not idling then the product's going off," he said.
"So this is a good instance of idling. But we can drill into these things."
Ansley said it is possible to drill down to the unique resource ID of an individual truck when investigating instances of idling.
We can ... see which truck it was and why was it idling for this amount of time," he said. "And if the reason was that the driver just wanted to keep his air conditioning going so that the cabin was cool when he got back in, well, we'll talk to the driver.
"We'll make sure they understand that's not an appropriate use of fuel or an appropriate emission of greenhouse gases."
Read on for routing examples that save Linfox money ...
Route choices
Linfox also plans to crunch the numbers on road congestion in a bid to optimise the routes taken by trucks for deliveries.
Ansley said that past route optimisation works didn't take a lot of historical data into account.
"If we see a road pattern that looks like a road pattern from previously, how should we re-optimise?"
A technical demonstration using sensor data from trucks in Thailand — where Linfox has a larger fleet than Australia — mapped the average speed that trucks were historically able to achieve on each piece of road, by day and time. The back-end process interrogated over 62 million data records.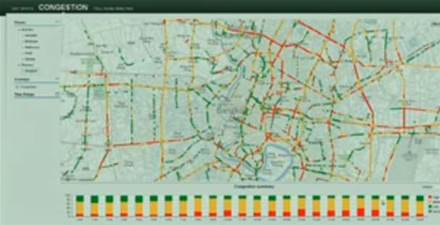 "The amazing thing here is when you look at this you can actually renegotiate with customers your delivery windows, when do the goods need to be here," Ansley said.
"It might change on a daily basis."
Ansley indicated such a system could be of use to a customer like Tesco Lotus, the Thai subsidiary of British supermarket giant Tesco, which contracts transportation to Linfox, though discussions had not occurred.
"We're delivering to a lot of the Tesco mini marts right up to the hyper marts size [stores], but getting to those locations at the time that Tesco says they want us there — which doesn't take any of this [sensor] information into account — means that we're wasting time and we're also wasting fuel. We have a lot more idle time in the traffic," he said.
"By going back to Tesco and saying, 'Hey, if we could deliver to you guys an hour earlier or later than the window you've given us', there's a huge opportunity for an improved service cost wise and environmentally wise."
Ansley flagged toll roads as another area where real-time and historical data crunching might produce some useful observations, but ran out of time at the conference to demonstrate it.
"We obviously use a lot of toll roads. We want to understand if we're paying for those toll roads, are they efficient?" he said.
Staying ahead
Linfox runs a wall-to-wall SAP environment. Ansley told iTnews last year that the company invested a lot in keeping close ties with SAP.
The HANA-based data crunching project is being delivered under a "co-innovation" arrangement with an Australia-based SAP team.
The type of arrangement is common among being SAP customers, such as those in the mining and resources sectors.
Ansley is appreciative of the fact he has an "extremely supportive board and an extremely supportive CEO" when it comes to investing in technology.
"Having a CEO who says the key area for us in differentiation is technology and we will ruthlessly pursue the use of it to give us an advantage is pretty nice as a CIO," he said.
He believed that those investments would keep customers hooked to Linfox in a way the firm's competitors couldn't.
"We believe we're already ahead of our competitors and we believe with technologies like HANA we can move further ahead."
Correction 21/5, 4.49pm: The big data system demonstrated by Linfox is in a proof-of-concept phase and not in production. The article previously indicated that discussions had taken place to use the system with Tesco in Thailand. This was incorrect and iTnews apologises for the error.