Australia is going against the global trend of increasing average and peak broadband connection speeds, with content delivery network provider Akamai noting slowdowns for the country.
Globally, the average speed for connections to Akamai stands at 2.9 megabits per second, and the peak speed has reached 16.6 megabits per second, increasing steadily quarter on quarter.
The figures for average and peak connection speed in Australia are 4.2 and 23.4 megabits per second respectively. New Zealand posted somewhat slower figures at 4 Mbps and 19.2 Mbps respectively, representing slight increases.
Year on year, Akamai's fourth quarter 2012 report points to what it called an "unexpectedly high decline" of average connection speed in Australia of 23 per cent.
"Australia's decline is unexpectedly high, especially given the progress being made on the National Broadband Network (NBN)
"Although there have been some challenges in keeping up with demand for service, these deployment delays should not be driving such a significant decline in average connection speeds," the report says.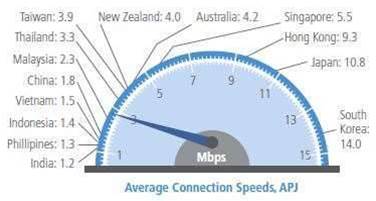 Furthermore, along with Iran, Tanzania, Cameroon, Guatemala and Oman, Australia was one of just six countries to post declining peak connection speeds.
Akamai's report notes that year on year, Australia saw "a surprisingly large 28 per cent drop" in peak connection speed compared to 2011.
Akamai data also shows both countries' connection speeds again lag well behind developed economies in the Asia-Pacific such as Hong Kong, Singapore, South Korea and Japan, which have rolled out fast broadband networks.
Australia also saw a large decline in the adoption of broadband faster than ten megabits per second, which dropped by a massive 56 per cent between 2011 and 2012.
Mobile data, with figures collected by vendor Ericsson for Akamai, grew by a substantial 28 per cent in between the third and fourth quarter last year, and doubled between the same period in 2011 and 2012.
An unnamed Austrian mobile provider took the top spot in the last quarter of 2012 for average connection speeds at eight megabits per second whereas a Spanish mobile telco hit 44 megabits per second for average peak speeds in that same quarter.