Woodside Energy will complete a desktop feasibility study of a 320-kilometre subsea optic fibre link for the Browse liquefied natural gas (LNG) precinct in approximately three months.
The proposed fibre optic cable will connect an onshore LNG production and export plant at James Price Point to a central processing facility (CPF) located offshore, according to a network schematic.
James Price Point is about 60 kilometres north of Broome in Western Australia.
Fibre optic links will then run from the CPF to two offshore platforms situated over the Brecknock and Calliance gas and condensate fields, where the water is about 590 metres deep.
The fields are located about 400 kilometres off the Kimberley coast.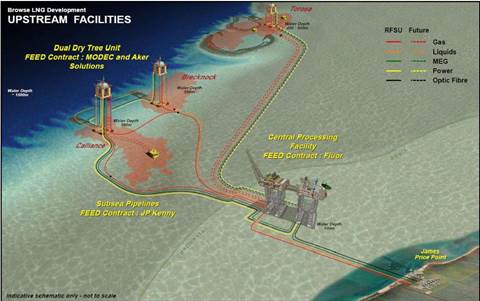 Woodside is the major equity holder and operator of the Browse LNG development. Other shareholders include BHP Billiton Petroleum, BP, Chevron and Shell.
The development is entering a detailed front-end engineering and design (FEED) phase.
A final investment decision is expected by the middle of next year. If that occurs, the first gas from Browse will be processed by 2017.
A Woodside spokesman said the firm has completed "several studies" on fibre optic connections to various assets in the Browse LNG development, pointing to the cable path included in the schematic.
Details of the latest desktop study are expected to inform the engineering design, installation and commissioning of the fibre optic cable.
A repeaterless subsea fibre optic transmission system is one option being considered for Browse.
Repeaterless technology could bridge distances of 400 kilometres or more without requiring submerged electrical power or active elements, according to a study [pdf] of the technology's use in oil & gas fields.
Single-mode fibre optic cable options are also understood to be under consideration, conforming to the ITU-T standards G652.D [pdf] or G655.
The plan for Browse LNG includes a third gas and condensate field called Torosa, which is to be developed in phases.
The Browse subsea network schematic shows a proposed optic fibre link to connect the CPF to the platform at Torosa; however, it is unclear if this is included in the 320 kilometres of fibre currently under consideration.