Australia's ICT industry has come a long way since the infamous booth babe crisis of May 2010, with this year's Microsoft Tech.Ed conference on the Gold Coast [pictured below] featuring a session devoted to "Women in IT."
Microsoft said the session "aims to raise the profile of women (and men!) who are doing great work in the community to encourage girls to consider a career in IT, or support girls entering the IT workforce".
To celebrate this newfound respect for women in the industry, Microsoft's marketing team made a contribution: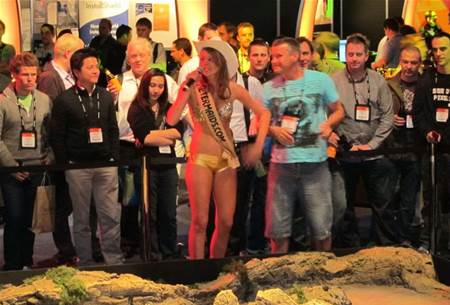 XBox competition at Tech Ed 2010
Microsoft has since responded with this statement:
"The Australian Tech.Ed team would like to sincerely apologise for any offense caused by the promotional staff who were manning the remote controlled car exhibit at the Tech.Ed welcome reception. We were unaware of their exact costuming until the day of the event, at which time it was too late to be addressed."
Kudos to Kate Carruthers.