Work is set to commence on the New South Wales and Western Australian links of the Federal Government's $250 million broadband blackspots project this week.
Nextgen Networks, which won the $250 million tender to build the backhaul links, told iTnews it is on track to complete the project within the original timeframe set by the Government.
Managing director Phil Sykes told iTnews the project would "definitely be finished in 18 months."
"We passed the 500 km mark a couple of weeks ago and now nearly 1000 km has been done," he said.
Nextgen Networks has commenced work on the additional 2000 km link up the centre of Australia from Tarcoola in South Australia, to Alice Springs in the Northern Territory.
Skyes said that this connection would complete a loop through the blackspot region that will improve the resilience of the network.
"We're starting work in many different places at the same time and will complete the project with a great deal of parallel work happening at the same time," he said.
"One crew completed 26 km in a day which is a record for us."
Work in Geraldton, Western Australia is due to start tomorrow, and is expected to be completed by mid-March 2011.
Backbone infrastructure construction in remote Broken Hill, NSW will commence today.
The new network will provide 800 breakout points of interconnect, positioned in 10 km spaces, aimed at enabling carriers to use the network.
"Our mission is to get Optus, Vodafone and [other] ISPs to gain access to this backbone network, so we're committed to making it efficient and cost effective for them to use," Sykes said.
He said that Nextgen will provide DSL capabilities to provide ISPs with the option to use virtual ports to connect to the network.
"We've taken a 50-year view on the network in terms of future-proofing the physical network to provide a high level of capacity for a long period of time."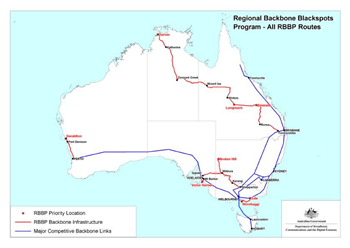 The Regional Backbone Blackspots plan (click image to enlarge)
For more detailed and up-to-date maps, see image gallery (top right)