Custom-built algorithms that match content, advertisers and users are behind a new, legal music download service called Guvera.
Launched this month, Guvera lets users stream and download music files legally via deals with EMI and Universal Music Group.
Users are not charged for the files, which are paid for by advertisers like Jack Daniels, Levis and McDonalds in hopes of ingratiating themselves with a target demographic.
Guvera founder Claes Loberg (pictured), who also founded Australian digital media company Hyro, said the site transforms advertising from something that disrupted user experience to something that engaged users.
The service provides templates for advertisers to build custom 'channels' that host music relevant to the brand, and are designed to attract a target demographic.
Representing eight years of work, the site was inspired by Loberg's observations as a member of the Branded Content Marketing Association in 2002.
"Brands were creating their own content based on their ideals," he said, describing BMW's short film series, The Hire.
"I don't want to live in a world where advertisers are creating all the content," he told iTnews.
Commercially, Loberg saw an opportunity in matching advertisers to successful content that also reflected their brands.
From a personal perspective, Loberg hoped Guvera would support "cooler, super niche" content that struggled under an advertising model that preferred mainstream content for its larger audience.
"We didn't start off trying to create something for the music industry," he told iTnews, citing plans to host film, TV and news media on Guvera.
"All we're doing is providing a tool that tells you which advertisers will be paying for which content."
Guvera is built on an engine similar to that of Google AdWords, which allows an advertiser to nominate key characteristics of its target demographic -- for example, an interest in snowboarding -- and the dollar amount it is willing to pay per customer.
The site then matches users to specific advertisers' channels based on their self-declared interests and registered geographical location.
Consumers searching for music files are presented with a list of relevant advertiser channels via a channel ranking algorithm, and are invited to choose the advertiser that will pay for their downloads.
They are then able to download and stream a limited number of songs from the advertiser's channel, which includes their chosen song as well as around 20 other songs that Guvera's software deems relevant to the user's interests and the advertiser's ideals.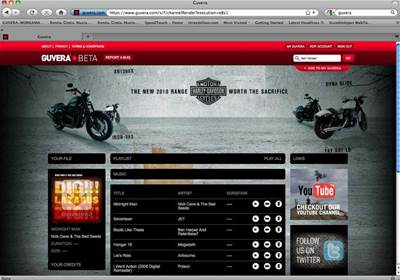 Harley Davidson's Guvera channel
Advertisers receive reports about the demographics, music preferences and the interests of visitors to their channels, as declared by users on registration.
But "nothing that Guvera has done will give [advertisers] the ability to contact or spam users," Loberg said.
As the site's user and content base grows, Loberg plans to introduce backend algorithms that dynamically recommend songs based on user information and information from a US-based music metadata provider, so that channels function like music recommendation service Pandora.
Guvera currently features more than one million songs at a bitrate of about 256kbps. The files are hosted and served by Arizona-based content delivery network, Limelight Networks, and supported by an asset management system that Loberg said took "two years of solid development".
"That [IT] was the biggest nightmare in the whole world to put together," Loberg told iTnews. "There are so many different facets of Guvera."
The company has staff in New York, Los Angeles, Sydney and Melbourne, as well as two offices in Queensland that house its 20 developers.
Currently serving 50 advertisers in Australia and 30 in the U.S., the site also is beginning to attract smaller advertisers because of the ease with which brands may target a specific, local audience, Loberg said.
Guvera's investors, including Queensland-based AMMA Private Investment, are positioning the company for an eventual IPO (Initial Public Offering), he said, adding that the company is open to expansion opportunities and already has received offers from companies looking to bring the service to various parts of Asia.