Crates full of IT equipment have reached Melbourne's Albert Park for the Australian Grand Prix, which takes place this weekend.
Twelve teams are slated to compete on Sunday 28 March, for the second round of the 2010 Formula One World Championship.
The teams will be supported by equipment for the storage, transfer, management and analysis of critical data about the cars as they speed around the 5.3 kilometre track.
McLaren Mercedes
According to Chris Burton of SAP, which sponsors the Vodafone McLaren Mercedes team, Formula 1 (F1) teams are arguably more technology-savvy than most IT businesses.
"They [F1 teams] are a very innovative IT business," Burton told iTnews. "Technology and specialised software is absolutely the cornerstone of racing."
"IT is at the heart of F1 because teams work constantly to improve performance and ultimately the speed of the race car, so much so that a tenth of a second makes a difference between winning and losing," he explained.
This is the 14th year of partnership between McLaren and SAP, whose 'Industry Solutions for Automotive' software was used in the design of Mercedes High Performance Engines.
Mercedes High Performance Engines are used in McLaren, Force India and Mercedes Grand Prix cars, which race at speeds above 300km/h.
Every second of racing, a typical F1 race car generates up to 0.5MB of data about its acceleration, wheel speed, engine performance, battery voltage, and the temperature and pressure of engine oil.
A car tends to generate up to 2GB of engine control unit (ECU) data per Grand Prix race, and up to 3TB per year, leading to storage, networking and security challenges for teams collaborating with engineers in their home countries.
Williams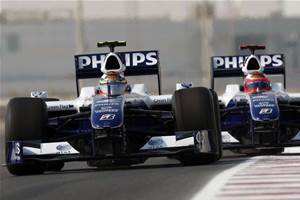 The AT&T Williams team uses the carrier's global network, which transfers a 100MB file between a European track and the UK in an average of 8.5 minutes, a spokesperson told iTnews.
This year, the team has deployed an improved link and new garage computers with remote desktop capabilities, allowing race data to be viewed remotely in real time.
For European races from May 2010 onwards, the AT&T Williams team will also deploy telepresence facilities to connect the factory in Grove, UK -- which hosts a $20m supercomputer performing computational fluid dynamics calculations -- to trackside engineers and the business exchange.
"Previously, the team had to wait for data to be transferred back to Grove before they could look at it," AT&T Australia's sales manager Martin Creighan explained.
"Now ... if they have a problem at the circuit and want advice from a specialist at the factory, they can look at the data and provide the advice in a much shorter time frame than previously."
AT&T also provides a portfolio of security services to keep out malware and ensure the Williams's transmissions remained private.
Renault
Meanwhile, the Renault F1 team has partnered with security vendor Symantec, which provides its 30-person IT division with archiving, business continuity, data protection, security and systems management software.
It uses "encryption and VPN technologies" to secure its data, which is stored on four NetApp FAS2050 clusters that host a total 12TB of data at the track.
According to Renault F1's head of Information Systems Graeme Hackland, the challenge for the team is to find a storage solution that could allow more than 30 trackside engineers to monitor approximately 1,000 channels of information in real time.
"Without that data, we'd never be able to win a race," he told iTnews.
Renault F1's IT procurements are based on portability, high availability, and ability to handle extreme environmental conditions, Hackland said, describing temperatures up to 40 degrees Celsius and "excessive humidity" at last fortnight's race in Bahrain.
Equipment also has to be small enough to be packed into a crate and transported to each race track, from Bahrain to Australia, China, Europe and Brazil.
But trackside data is only half the story, Hackland said, with 50 design engineers at the Renault F1 headquarters producing more than 10,000 new technical drawings per season of any of the car's 80,000 components, and requiring live access to drawings from the previous three years.
"Deadlines are critical in this business," he told iTnews. "There are times when a part is designed, approved, manufactured, inspected and shipped to the race circuit within hours."
"We can't afford for our IT infrastructure to negatively impact our race effectiveness or strategy," he said.