The NSW Government is considering relaxing the content access rules applied to Federally-funded student netbooks as it rolls out another 60,000 devices to high school students across the state.
State Education and Training Minister Verity Firth joined Lenovo's global chief Yuanqing Yang at Kogarah High School in Sydney's south to launch stage two of the digital education revolution.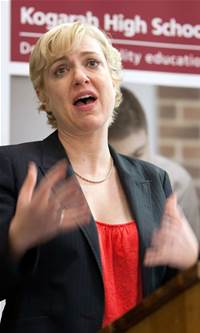 Minister Verity Firth at Kogarah High School today
About 10,000 Lenovo ThinkPad Mini 10 netbooks would be rolled out to public schools each week - taking the total to 130,000 by mid-year, Firth said.
Wireless networks would also be expanded "from the library and a couple of classrooms" to cover the whole of each high and central school by the middle of May, she said.
"We're the only state that has done a laptop model in entirety and its working really well," Firth said.
"The feedback we're getting from the ground is that its really engaging kids who might not have otherwise have been as engaged."
Earlier, Firth spoke with Kogarah High School students who had just received one of the new netbooks.
Students were generally fans but one voiced concerns over the blocking of some content types, particularly when he took his netbook home (see video below).
Firth responded by saying the Government had formed a stakeholder roundtable consisting of students, parents and teachers which had proposed a relaxation around the blocking of social network access when students were at home.
"Maybe at home there could be some rules we could relax," Firth said.
"We'd have to do that in very close consultation obviously with the [Parents & Citizens Association] and parents.
"There would have to be very strict guidelines plus also a sense of it's a privilege that you earned through good behaviour, and if you don't use it well that right would be taken off you."
Firth said the relaxed rules would also likely apply only to students in "senior years", at least in the first phase.
"We recognise that we need to teach our students responsible internet behaviour. But we also recognise again, in the new digital age, that social networking is so much a part of their lives, that to make the laptops relevant to them we also need to move with the times," she said.
Lifting the ban on social networking sites would not extend to the school environment.
"One of the biggest things we've always said is that school isn't an internet café," Firth said.
"You're here to learn. These are things to help you learn. We're not interesting in you social networking at school to be honest."
Replacement netbooks
Firth said that the Government had selected a two-year warranty for the Lenovo netbooks because the cost of even extending it to a third year was more than the cost of a replacement machine.
"I noticed in the press there's been a view that it should be a four year warranty," Firth said.
"When we literally market tested that, it didn't make economic sense because by the time you paid for the third year warranty that actually is the same price as a new laptop."
Firth said that both the Department of Education and each school had a "pool" of netbooks that could be given to students if their machine broke before they finished school.
"If there was a situation within a two-and-a-half year point the laptop stopped working we have the capacity to replace that laptop," she said.
"[The two year warranty is] not about making the parents financially responsible."
Lenovo chief Yuanqing Yang said he believed the PC maker's "commitment to innovation and high quality" was a key reason its devices continued to be deployed in NSW schools.
Piracy rates
NSW Department of Education and Training CIO Stephen Wilson again could not escape questions over the percentage of laptops used to access pirated or copyright material illegally.
Wilson had been critical of such questions in the past, wanting to be asked instead "how many students have learned new skills or how many communities have got their first computer [because of this program]?"
He said today that "well less than half a percent of machines" - around 300 to 400 units - had been compromised.
NSW D.E.T CIO Stephen Wilson today
Wilson said the Department had "made changes to this year's device" to prevent students from tampering with them or using them for illegal purposes.
One of these included the use of Applocker features in the Windows 7 operating system that shipped with the Lenovo netbooks.
Wilson said compromised machines were taken away and re-imaged. He hoped the inconvenience - along with students' engagement with the device in classrooms - would dissuade students from attempting to "push the boundaries."