The Sheraton on the Park hotel in Sydney contains Australia's first public Telepresence suite, which is a room built specifically to allow real time meetings to be held between people in different geographic locations.
Unlike traditional video conferencing, Telepresence is designed to make the technology invisible by creating a virtual environment that simulates sharing a conference table.
Attendees are in similar rooms in different cities or continents, all connected via a high-speed network.
Cisco claims to have around 3,500 telepresence rooms on its network, the vast majority of which are privately owned and used within corporates and government departments. There are however public telepresence facilities in 12 locations around the world including the W hotel in Chicago as well as hotels operated by the Taj Group in India and London.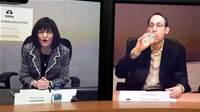 View from the Telepresence conference table, looking at two people sitting 'next' to each other but actually in different US States.
Sean Hunt, Managing Director of the Sheraton on the Park, said Sydney was an obvious choice for a public Telepresence offering.
"We are quite isolated from the rest of the world so this is a great alternative to long haul travel. We can put folks face-to-face and they can do business. The feedback so far from the market has been positive - we already have forward bookings," said Hunt.
Hunt said the suite is not restricted for use by hotel guests.
"Anyone can come and buy this on a commercial basis. it is $500 per hour and is a great alternative to long haul travel if you need to connect up with London, Paris, the US and Sydney," he added.
When questioned about the security of the service, Mark Weidick, vice president and general manager, Telepresence business unit at Cisco, said sessions were encrypted across the network and included both basic and high level security measures.
"If a new caller joins the call their image immediately appears on screen, so someone is gingt o say, 'who are you'. [Telepresence] is in various government and defence implementations around the world so the security is, i am not going to say unbeatable, but it has been tested," said Weidick.
Further public suites are being built in the Sheraton New York Hotel and Towers, the Western LAX in Los Angeles and the Sheraton Centre in Toronto, Canada. There are also public telepresence suites planned for Dallas, San Francisco, Brussels, Paris, Hong Kong and Frankfurt.
Neither Cisco or Starwood could say where or when another telepresence suite would be built in Australia.