Google has launched a new service for Australian users which reveals traffic congestion on Australia's Google Map service.
The service is based on traffic intelligence reports developed by' SUNA, which has provided mapping companies with traffic data for some two years.
SUNA provides data to most of the top brands of GPS navigation systems, including those made available by TomTom, Garmin, Navman and Mio. So if you've been receiving traffic updates on your smartphone or GPS - chances are, the data has come from a company called Intelematics Australia, who operates the SUNA traffic service.
Google maps users are now set to take advantage of SUNA's data, with Google posting live traffic updates online, accessible from anywhere with a web browser - and all for free.

That's a slight deviation from the typical SUNA setup, which requires a lifetime-use licence to be purchased to access the service, a cost often absorbed with the purchase of many higher-end GPS devices. A separate antenna may also be needed in most cases.

Intelematics CEO Adam Game said he isn't worried about giving away the company's biggest asset for free.
There is no SUNA logo or company link to be found on the Google site - not that Mr Game is worried. He's quick to differentiate between the two products, referring to the Google Maps version as a "complimentary" service; one which can work side by side with SUNA's regular traffic updates and isn't intended to replace SUNA's main service.
Live traffic data: visually shows the good and bad areas

Recieving traffic updates on your GPS is far more useful: drivers using SUNA compatible GPS dervices are delivered more precise traffic data fields, which can include the exact street location of any accidents and estimated delay times by route.
In comparison, the Google traffic function offers more visual awareness to the user than actual navigation.
"We hope that it ratchets up consumers awareness and indeed expectations in how useful traffic can be a in a traffic application," Game said.
Likewise, the Google version isn't anywhere as detailed as SUNA's regular service.
"Google maps is not a navigation application," Game said. Moreover, the maps are a visual snapshot, based on four specific colour groups which represent the coded traffic flow, moving from slow bottlenecks to zippy traffic routes.

That might not appear to be a perfect way of watching traffic at first, but it does provide an extra planning tool for users.
"It's not a substitute. It's fundamentally about planning your trip, rather than guiding you on...The congestion monitor view is colour coded roads by the level of traffic congestion. That's slightly different from the personal navigation device," said Mr Game.
For now, the traffic data is only avaliable across main roads and arterials, although new roads are expected to be added over time.

The service is deceptively simple to use: go to Google Maps, choose your location (available in a select number of capital cities and regional areas for now) and click on the traffic button.
Traffic information can then be viewed as 'live' snapshots or as historical data subsets collected over a period of 12-18 months, which gives aggregated traffic averages from any given time of day. "Twelve to eighteen months is an ideal historic view of traffic conditions", Game said.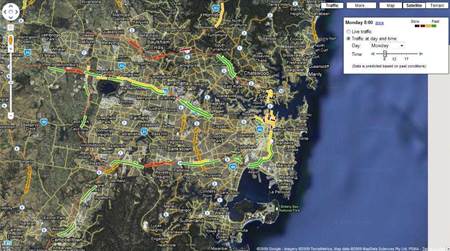 Historical traffic data: life at 8am in traffic on monday mornings
SUNA updates their data every 3-5 minutes, so Game hopes Google will do the same, although he couldn't say exactly how often Google would refresh the traffic feed across their maps.
However, Game is confident of SUNA expanding the service to other locations, with the potential to outsource extra content for the Maps. "In the near future, we would expect to see the remaining cities also on Google, (forming) a comprehensive relationship."