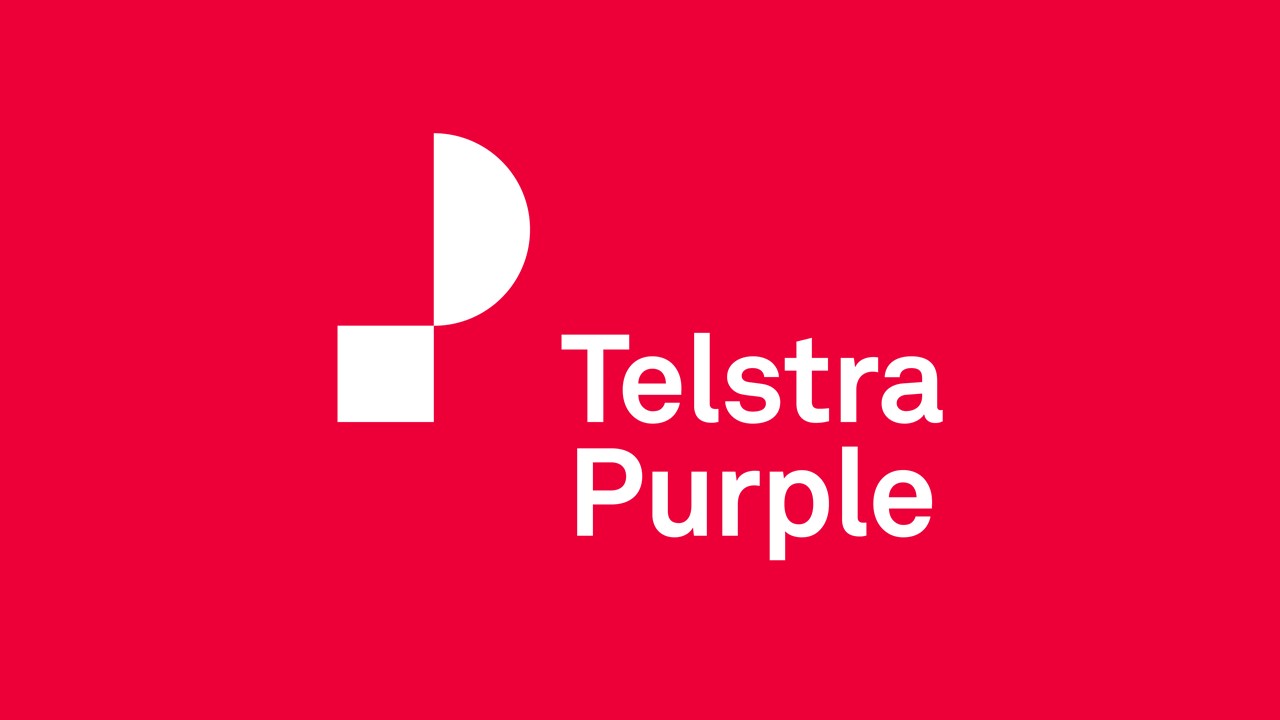 Telstra Purple's diverse team of digital experts, unrivalled global partnerships and combined power of Telstra's advanced networks are helping businesses spot opportunities to realise their potential.
People + Partnerships + Power of Telstra = Better transformations
When Telstra assembled Australia's biggest sovereign professional and IT managed services provider, its mandate to bring people together with purpose was fused into its very name.
Telstra Purple (a portmanteau of 'purpose' and 'people') builds on its heritage as a consulting-led enterprise that partners perfectly with small to mid-market customers but has the scope, scale and strategic horizon of an enterprise IT provider.
With more than 1500 experts on three continents, Telstra Purple has deep skills in cloud, cybersecurity, workforce enablement, design, experience delivery, software, internet of things (IoT), data and artificial intelligence. Bolstered with the telecommunications clout of flagship carrier, Telstra, the professional services firm has unique capabilities in networks, mobility, data centres, and next-generation tools including augmented reality and virtual reality.
Telstra Purple Executive Chris Smith, said the enterprise has the technological vision, intellectual depth and economic scale of the biggest systems integrators and consultancies alloyed to its heritage of fast-moving, boutique IT providers.
"Telstra Purple is undoubtedly the best-kept secret in Australian IT; there is no one else of our scale that's Australian-sovereign," Mr Smith said.
People are our greatest asset
Central to Telstra Purple's ethos is its people who put customers at the centre of everything they do. In the first few months of 2021, Telstra and Telstra Purple trained 800 staff in Amazon Web Services (AWS) to speed their customers into the cloud. And to protect customers, they trained 500 cybersecurity experts — 200 within Telstra Purple itself.
"To help our customers succeed, Telstra Purple needs a very diverse workforce," Mr Smith said.
"We need a broad skills base of people with workplace expertise and network skills from diverse backgrounds and perspectives. But we also need that neurodiversity to engage at different levels and on our customers' terms."
Translating technobabble into compelling insights that inspire action is a challenge for any IT services firm. Telstra Purple's people are experienced in sparking and sustaining discussions in Australia's boardrooms.
"The board, governance, risk and compliance conversation is one in which we have to participate but raising a case for new technology such as cloud with board members is often first based on issues of cost and risk," Mr Smith said.
"And from that starting point, it creates an opportunity for innovation on the technology platform we create together. So we help our customers adapt to this new style of commerce while showing how they can leverage those technologies for their advantage."
Products & services for rapid transformation
With its pedigree in complex systems and engineering, Telstra Purple is uniquely placed to orchestrate the bewildering array of technologies for business transformation, such as:
Cloud and hybrid cloud

— Partnerships with leading vendors such as Amazon Web Services (AWS) and Microsoft Azure ensure solutions are cloud-agnostic. For instance, by deploying serverless technology in AWS,

VicRoads shifted millions of transactions to the cloud

to capture transaction savings of 75 per cent while speeding deployment cycles from weeks to hours. And a recent partnership means Telstra Purple customers'

devices can access edge compute applications without leaving Telstra's 5G network

, speeding app responsiveness while bolstering security because data doesn't transit the internet.

Cybersecurity

—

Trust in digital systems is essential to protecting the $1 trillion of gross economic output from digital commerce

, according to the Federal Government's AustCyber network. So Telstra Purple has automated much of the manual labour required to stay on top of the growing list of threats to help customers get on with business. And leveraging the smarts of Telstra's cybersecurity network operations centres, Telstra Purple is first to know of emerging threats before they endanger their customers.

Internet of Things, data and AI

— Digital transformation helps businesses unlock hidden value in their processes and products. Telstra Purple helped

Kennards develop its own IoT service, Easytrak

, on Microsoft Azureto monitor the status of remote assets. Easytrak alerts customers—in near-real-time—to issues such as how their hired asset is performing, if it needs maintenance or is moving outside work hours. And its predictive analytics detects emerging considerations before they imperil the customer's project, saving Kennards and the customer while maximising asset utilisation.
Networks

— The rapid spread of ultra-high-bandwidth networks such as wireless 5G and fibre NBN unlocks potential for exciting transformations in how Australians work, play, learn and heal. With the power of Telstra's carriage services behind it, and advances in edge compute technologies for faster and more responsive apps at lower cost, Telstra Purple is uniquely situated to bring digital transformation to Australian businesses. Victorian commuters are already benefiting through co-creation of the innovative Department of Transport RideSpace app that predicts how busy the public transit network will be so they can plan their trips with confidence.

Software services

— As business processes are increasingly digitised, more organisations will become software developers. Telstra collaborates empathetically with its customers to code their aspirations into applications. For Wild Breads, which sold through its channel of stores and restaurants, this meant writing an app to understand what consumers valued about its artisanal breads. The Telstra Purple collaboration on a 'direct-to-consumer' app resulted in 250 extra sales in the first two weeks and a significant new route to market when other channels were blocked during the 2020 pandemic. But of enduring and strategic importance, the specialist baker now has its finger on the pulse of evolving consumer tastes to refine and develop its products.

Workplace

— Whether it's enabling thousands of employees to work from home, spinning up contact centres in the pandemic, or transforming education through compelling virtual reality and augmented reality experiences, Telstra Purple has the skills and partnerships for productive and desirable next-generation workplaces. So when Covid–19 struck, and having shifted to Microsoft Azure cloud with Telstra Calling for Microsoft Office 265 in 2018, customer UniSuper stood up a work-from-home readiness plan in just a few days. Such a project would have presented significant challenges were it not for the partners' foresight in creating the platform for innovation before the pandemic struck.
"Post-pandemic, we're working how we'll continue to work — remotely and collaboratively, mediated by technology. Commerce is now done globally, in this hybrid way," Mr Smith said.
"There's a nexus between engaging workplaces, employee satisfaction and business growth and profitability, so now is a great time to co-create workplaces with our customers to spur the next step in their evolution."
Partnerships with purpose
Telstra Purple approaches innovative problem solving for its customers by fusing empathetic design thinking principles with hard-edged engineering skill built on its carrier pedigree. With access to its broad spectrum of technology skills in areas as diverse as cloud, cybersecurity, carriage services and mobility—and even augmented reality and virtual reality—it has the capabilities and capacity to deliver desired outcomes for customers.
Telstra Purple partner with the world's leading tech companies so customers can access the tech they need for the outcome they want. When working with Telstra Purple there's no IT platform alliance or vendor lock-in.
Telstra Purple have best-in-class partnerships with the world's leading tech companies, so they can line up the right solution and unlock the best outcome for businesses. Whether it be adopting platforms fit for purpose to creating new, bleeding-edge solutions combining cloud, AI, 5G, IoT, and Mixed Reality. Telstra Purple create solutions that are all about the customer.
And having delivered 8000 projects for its global customers, Telstra Purple has a body of knowledge to deliver value rapidly and at any scale.
Projects such as the Critical Health Resource Information System (CHRIS) for Ambulance Victoria and the Australian and New Zealand Intensive Care Society (ANZICS) that moved patients to the nearest of 191 available public and private ICU hospitals and anticipated demand surges. CHRIS was a game-changer during the 2020 pandemic when administrators were conscious of the strains that could be placed on the hospital networks.
By co-creating with customers and partners on an existing platform, Telstra Purple and its partners innovated a solution to protect the most vulnerable Australians when they are having the worst days of their lives.
"By taking an existing investment, with a small amount of change, you can do something pretty special," Mr Smith said. "So we asked, what can we achieve together that maybe wasn't in the original scope but can be created with incremental investment and forethought."
Powered by Telstra
Choosing a technology partner may be a make-or-break decision for a business.
But with the power of Telstra's network carriage services behind it, and a heritage of delivering projects rapidly and empathetically, Telstra Purple safeguards its customers.
"Telstra's enviable connectivity backbone for which we are globally famous is a massive differentiator for Telstra Purple," Mr Smith said.
"There's no Telstra competitor that has a Telstra Purple, and there's no Telstra Purple competitor that has a Telstra. We're better together."
And its other competitive edge is a readiness to engage with any size of customer and scale of project.
"I hope people will think of Telstra Purple as a starting point to achieve their rising digital aspirations," he said.
"Whether it's digital transformation, lifting productivity or improving their infrastructure, security and performance, we have the people, power of Telstra and shared sense of purpose to help them reach their goals."
Resource Centre