Commuters in Melbourne's leafy inner south-east will enjoy the benefits of free wi-fi as they hop on trams departing the Malvern terminal in the mornings following a sponsorship deal with a Big-Four bank.
Until October 24, an ANZ-branded wi-fi tram will alternate on routes 5, 6, 8, 16 and 72 that run down Dandenong Road, High Street, Toorak, Glenferrie and Commercial roads - major thoroughfares into the city and Melbourne University.
It is part of the bank's promotion to convince commuters it makes "banking more convenient and simple for customers who are time-poor and offering them an alternative to bank while on the move", ANZ said.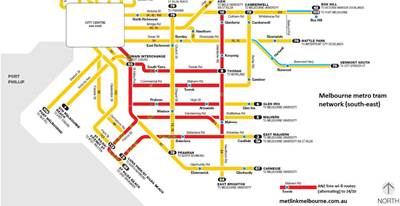 ANZ offers free wi-fi on Melbourne trams. source: Metlink
And it dovetails with the bank's other free wi-fi services at cafes in Melbourne, Sydney and Brisbane and at Southern Cross station on Spencer Street where 20,000 have accessed the service since July 8.
"Free wi-fi gives people access to people so they can do their internet banking, access the internet or other online services while they are commuting to work or stopping for a coffee," the bank said.
Broadband community site Whirlpool has a thread on popular places to find free wi-fi.